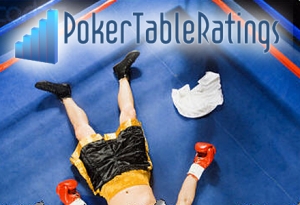 In a striking turn of events, the data miners at Poker Table Ratings (PTR) have announced they will comply with PokerStars' demands that PTR remove Stars player profiles from its product list. The move follows Stars' decision earlier this week to send 'cease & desist' letters to PTR and to the internet service provider that hosted PTR's data. On Wednesday, PTR was offline for a spell, apparently as a result of the ISP agreeing with Stars' claim that PTR had infringed on Stars' intellectual property rights. Undeterred, PTR was back up and running on a new domain name server within hours. However, not long after PTR emerged from its brief hiatus, its official blog posted the following notice:
"Recent contact by Stars has led to the removal of this network's player profiles from PTR … Unfortunately we have been unable to gain communication with Stars during this time and it has come to a hostile dissolution of service for this brand. They have taken formal action against us and we will comply with their demands and have the brand removed from the site … we will fully adhere to the cease and desist notice by Stars, though we do not believe that we are a disservice to the online poker community … We still fully believe in our product and will continue to introduce new and exciting features to our customers … The latest events, though a disruption in our plans, do not derail them."
PTR's claim that it had not been able to communicate with Stars runs counter to claims made by Stars' Head of Home Games Lee Jones, who told PokerNews that the company had tried negotiating an opt-in policy with PTR regarding its players. "We've been at this for two or three years – this is not a new effort." Similarly, Stars' chief legal counsel Paul Telford told PokerFuse that Stars had engaged in "repeated unsuccessful attempts" to get PTR to comply with the opt-in policy, but PTR "never took up this offer."
Speaking prior to PTR's blog post, Jones made it clear that PTR's ISP switch wouldn't put an end the fight. "We will have their new ISP take them down again … uncontrolled distribution of online poker player results is bad business and a violation of our terms of service. We will take whatever steps are necessary – both technical and legal – to prevent it from continuing. We will make it extremely difficult for them to do business." It appears PTR got the message.
Jones laid out Stars primary objections to data mining outfits, the threat they pose to the playing experience of recreational/net-depositing players, and thus to the overall health of online poker. "We believe that a poker player shouldn't have information and data about his opponents except from hands he's actually played. This is particularly important to protect new and/or weak players, who often don't even know that they're sitting in their opponents' crosshairs."
Comments