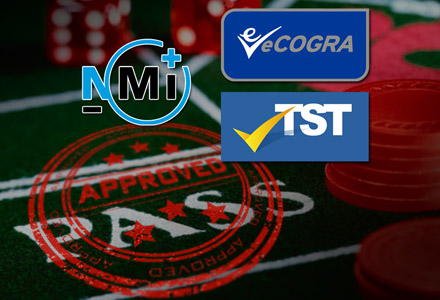 As more and more markets move toward regulation there is an increasing demand for companies who are committed to creating common standards within the iGaming industry.
While this sort of work has been required before, it has always been on a self-imposed basis rather than as a requirement of operating.
As the eCogra chief executive Andrew Beveridge revealed at the beginning of the year, his organisation's role is becoming more and more about helping to create safe iGaming environments rather than undertaking audits.
Beveridge and eCogra have certainly played very important roles in the regulation and stabilisation of iGaming. Beveridge's work in helping to create European standards has earned him many plaudits from those in the industry.
But the ever-increasing regulation means that the demand for certification and regulatory accreditation is becoming the focus of accreditation organisations. The demand for this now so great that eCogra are unable to meet the demand on their own. In fact, Beveridge did reveal that they will be bringing on numerous new staff in the near future.
But as with any demand, the supply for it is being filled quickly. A mix of more established companies and those that are new to the area are entering the markets concerned.
Traditionally there have been very few companies that work within this space in iGaming. eCogra is obviously one of these while Technical Testing Systems and Gaming Labs International (who are essentially the same company) have also been able to maintain a considerable share of the market.
But the times for these companies are changing. Before the majority of their time would have been spent conducting self-imposed audits that their clients asked for in order to show their reliability and trustworthiness. Now fewer iGaming operators are requiring these services as they're being forced to concentrate on adhering to the requirements defined by new regulators.
This means that it's becoming increasingly hard to stay at the top of the pile across all of the iGaming markets.
Up and Comers
While eCogra and TST would doubtless like their number of competitors to remain low, this isn't the case as opportunities are being spotted and pounced upon swiftly.
Beverage explained: "You have others [testing companies] that have been around a very long time now but we're beginning to see a lot of new ones.
"For example, as soon as Spain started regulating then accrediting organisations suddenly pop up out of the woodwork that are obviously closer with Spanish authorities."
It's all well and good for these local accrediting organisations to succeed in one market but in order to have a considerable affect on the industry they have to be prominent in multiple markets.
Balancing Act
The challenge is clearly for accreditation organisations to be able to balance the ability to work locally with each country's regulator with stretching themselves across numerous markets in order to be influential.
One of the companies that appear to be rising to this challenge is NMi. The Netherlands-based testing organisation has just become the first European-based company to be approved to cover the testing of gaming in Denmark. This came shortly after the approval to test and accredit in Spain and Quebec as well.
NMi also have longstanding relationships in more traditional jurisdictions such as Malta, the UK and Alderney. As a result it appears as if they're making more than a decent fist of being both global and local at the same time.
Their reach into Denmark was made possible by gaining an extension to their existing accreditation. This was UK accreditation which required NMi to demonstrate their expertise in gaming software and their knowledge of what's required to use it properly.
For NMi it certainly helps that they were already active in other forms of gaming long before the internet came along. The company first started developing slot machines back in 1986 in the Netherlands in preparation for the Act of Gaming which came into effect on December 1.
Their experience, even in offline gambling, is a reason to which Andrew Rosewarne, director of NMi UK, clearly attributes much of their success to.
In a press release following their approval in Denmark, Rosewarne explained: "30 years of experience in gaming is what drives NMi to continue its momentum in gaining accreditation for online testing in the newly regulated jurisdictions such as Spain and Denmark."
The Importance of Testing
On the off chance that any iGaming professionals had doubted the roles of testing companies such as eCogra and NMi in the past, they would certainly be well advised to reconsider this opinion now.
The importance of testing continues to grow as the iGaming industry becomes more heavily regulated and professional. While some operators may have been able to operate in grey areas or operate without appropriate licenses, the ever improving geo-location technology available means that this approach is becoming increasingly difficult.
The inability to advertise in mainstream media is just one of the factors that will limit unlicensed companies and restrict them from creating the large customer base that they expect.
For this and many other reasons, expect the number of accrediting organisations to increase dramatically. The challenge for operators seeking to work with them will now be determining the good from the bad.