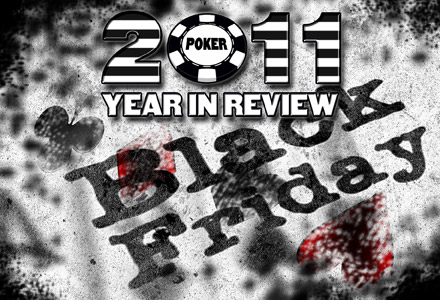 The first few months of 2011 might have been business as usual for poker players and the industry that keeps them in the action, but the biggest bombshell to hit the online poker industry since the passage of UIGEA turned everything upside down in April.
Uncle Sam Lowers The Boom
On April 15, 2011, the online poker world was changed forever. That was the day that Preet Bharara, the US Attorney for the Southern District of New York, filed criminal charges of money laundering, bank fraud, and conspiracy to violate the UIGEA against 11 individuals, including the heads of a number of payment processors and the founders and owners of PokerStars, Full Tilt Poker, UltimateBet and Absolute Poker. A civil complaint was also filed against a wide array of corporations behind those online poker rooms, seeking the forfeiture of all those companies' assets. Within a matter of hours, all American poker players who tried to reach the poker rooms' websites were greeted by the US Department of Justice's logo and a message telling them they wouldn't be taking to the felt on those sites anymore. Almost immediately, April 15 became known to poker players everywhere as Black Friday.
Bharara's case against the online poker rooms and their principals hinged on former Intabill payment processor Daniel Tzvetkoff, who entered the FBI's witness protection program and was given immunity in exchange for his testimony against the companies from which he had stolen hundreds of millions of dollars. Not only had Tzvetkoff been looking at as much as 75 years behind bars before he turned on his former clients, but turning also helped him get revenge on Full Tilt (and others) for filing civil complaints against him for running off with players' money back in 2009.
The fallout from Black Friday was heavy and swift. Full Tilt's anticipated Onyx Cup was canceled, as was PokerStars' North American Poker Tour. ESPN dropped all of its poker programming outside of the WSOP. And a number of anticipatory deals between Las Vegas casino companies and online poker rooms to work together in a future regulated industry, including a potentially blockbuster agreement between Wynn and PokerStars, were cancelled immediately. The Cereus network first announced layoffs of most of its staff and then suffered a raid from Costa Rican authorities, while the Merge network announced an end to its rakeback program. One of Merge's biggest rooms, Carbon Poker, even temporarily left the US market before returning later in the year.
Meanwhile American poker players' bankrolls were caught in limbo. Five days after Black Friday the DOJ announced a deal with PokerStars and Full Tilt for them to repay American players' funds. PokerStars, which keeps its players' funds segregated from its own, quickly began repaying US players and went right back about its business around the rest of the world. Full Tilt, Absolute and UB, on the other hand, didn't make such a move. As it turned out Full Tilt wasn't financially capable of meeting its obligations, and the former #2 player inability to do so would become the biggest story to come out of Black Friday.
Fully Tilted
While PokerStars made the best of its bad situation, Full Tilt Poker botched its handling of the mess almost from the beginning. It cut off its line of communication with players who wanted their money back and issued periodic press releases through PokerStrategy.com (like everyone does during a crisis). First FTP management said it had reached an agreement with the DOJ to repay players, but it never followed up with any actual payments. When speculation began that FTP didn't have the money, it issued another press release denying it was bankrupt – but still no money. Then Phil Ivey, one of the most prominent players in the company's stable of pros since its earliest days, sued Full Tilt's subsidiary Tiltware for $150 million in damages for subjecting him to "public ridicule, humiliation and loss of personal and professional reputation." Tiltware fired back that Ivey owed a large sum of money to FTP, characterizing his lawsuit as a "frivolous and self-serving" way to put Ivey's "own narrow financial interests ahead of the players he professes to help." Ivey dropped the suit one month later, and neither side came out looking good in anyone's eyes.
As bad as all that was, the worst was yet to come. First the company's French online gaming license was revoked. Then the Alderney Gaming Commission announced that it was suspending the poker room's license and considering a full revocation. But the big hit came when the US Attorney Preet Bharara amended his original civil complaint against Full Tilt to include Howard Lederer, Chris Ferguson and Rafe Furst. In the announcement of this amendment Bharara told the press that Full Tilt had been operating as a "global Ponzi scheme," carrying some $330 million less in its accounts than it owed to its worldwide player base. This was despite FTP's shareholders being paid some $443 million in disbursements over the previous four years. Mainstream press outlets that normally couldn't care less about poker were quick to jump at the "Ponzi scheme" bait and run the story unchallenged, and angry players had a new arrow in their quiver of complaints about the mismanagement of the second biggest online poker room in the world.
The rest of Full Tilt's year was dominated by the loss of its Alderney license and its attempts to strike a deal, brokered by the DOJ, to sell the site to French investor Bernard Tapie. The former owner of Adidas and the Olympique Marseille soccer club, Tapie spent six months in jail in the 1990s for fixing domestic league matches to ensure Olympique's best players were well-rested for matches in the more lucrative continental Champions League. That hasn't seemed to bother the US government too much, though – they have slowly continued making progress toward the sale, with FTP shareholders recently agreeing to transfer the company's assets to the DOJ. Tapie has applied for a Spanish online gaming license. Under the agreement, Tapie would assume responsibility for $150 million owed to players outside the US, while the DOJ will facilitate repayment of American players.
You Can't Go Home Again (But You Can Go Abroad)
Black Friday left American online poker pros – especially those sponsored by the Black Friday defendants like UB, which dumped its roster almost immediately – with some big decisions to consider. Some left the game entirely and either went to school or found jobs where their poker skills could be put to good use. Others opted to transition to playing live poker, where the stakes and rake are higher and you can't multitable. And others still decided to leave the country and continue to ply their trade via laptop.
The results for those who headed abroad were mixed from the beginning. Phil Galfond moved to Canada and got himself set up and back to the tables without much problem, but Daniel "Jungleman12" Cates but found himself refused entry at the border because he didn't bother to get himself a work visa beforehand. Some other pros moved to Mexico, Costa Rica, Malta and other locations where their livelihood isn't threatened by the local government. Many found themselves struggling to adjust not only to their newly adopted homes away from home, but also to the newly Euro-centric online tournament schedules.
An About-Face From Vegas
While the companies that built the American online poker market were busy defending themselves against the full might of the United States federal government, the parties who had historically opposed legal online poker found themselves having a change of heart. The American Gaming Association's Frank Fahrenkopf, Jr., came out in favor of legalizing online poker, as did Caesars Entertainment CEO Gary Loveman. A few of the casino industry's major players even put together their own Astroturf group, FairPlay USA, to "focus on outreach and public education." To head up those efforts, they tapped former Pennsylvania governor and Department of Homeland Security head Tom Ridge and former federal judge and FBI director Louis Freeh. The group took great pains to point out that it wasn't lobbying anybody – and the mainstream press didn't press the issue.
FairPlay USA was represented at the House Energy and Commerce Committee's first round of hearings in late October, while the AGA's Fahrenkopf testified before the committee in late November. The hearings weren't particularly productive, though Rep. Joe Barton (R-TX), the sponsor of a bill to allow states to offer online poker to their residents as they wish, assured poker players that the bill will come to a vote in early 2012. Even if that were to happen there will be a long road ahead at the federal level. On the state level, though, the game is poised to become legal in a number of jurisdictions now that Nevada has decided to begin issuing online poker licenses.
Next: Though the feds' Black Friday attack on online poker was the year's biggest story, the tournament industry thrived in casinos around the world. I'll take a look at the continuing emergence of international markets, a memorable WSOP, and the rest of the year in poker at the tables.
Click here to read Part 1, Calm Before The Storm.