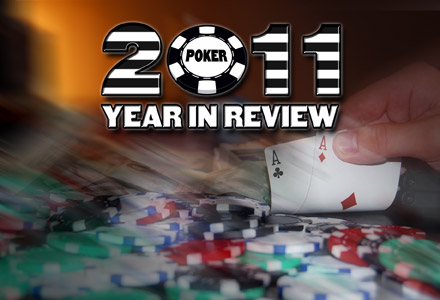 Given what a turbulent year it has been for the industry, it's worth remembering that the beginning of 2011 looked for the most part just like the beginning of many recent years for the poker world. Nosebleed-stakes games were thriving online and the thought that they might dry up to a massive government intervention was miles from anyone's mind. Meanwhile, the worldwide live tournament schedule kept to its recent trend and continued to grow denser and more diverse as audiences the world over continued to discover a passion for the game. For the first three and a half months of 2011, all the biggest stories in poker were still at the tables instead of in the halls of governments and corporations.
Online Nosebleed Stakes
The previous year had ended with a flurry of action in the highest-stakes games online, and the early part of 2011 saw that trend continue. Soon enough all the nosebleed games would go away, but for a time at the beginning of the year there were several players on pace for record-shattering performances at the online nosebleed-stakes tables. Gus Hansen in particular had a great start to 2011, running up a profit of more than $5 million by early March at Full Tilt's ultra-high-stakes cash game tables and making up for a pretty terrible year at the online tables in 2010. Along with his WSOP Europe bracelet win from just a few few months prior, his early-year run was a great rehabilitation for the Great Dane's reputation.
The biggest winner from 2010, Daniel "Jungleman12" Cates, and 2009's biggest story, Viktor "Isildur1" Blom, also found themselves off to pretty solid seven-figure starts. Cates' bottom line was boosted by his ongoing challenge with Tom "durrrr" Dwan, which added more than $1.25 million to his bankroll with only 40 percent of the required hands completed. Blom, meanwhile, took some of that money from Cates playing PLO and toppled multiple opponents, including Daniel Negreanu, in his PokerStars-sponsored SuperStar Showdowns.
Meanwhile, At The Casino…
Coming into 2011, Erik Seidel was already one of the most successful players in the history of tournament poker. He had only just begun to enjoy his status as the latest member of the Poker Hall of Fame when he went on the kind of run poker players dream about. He finished 3rd at the PokerStars Caribbean Adventure $5K 6-max event, 4th at the PCA $25K High Roller event, 3rd at the Aussie Millions $100K NLHE, 1st at the Aussie Millions $250K Super High Roller event, 5th at the LA Poker Classic $5K Heads-Up event, 1st at the LA Poker Classic $25K High Roller event, 1st at the $25K NBC National Heads-Up Championship, and 2nd at the $9,600 WPT Hollywood Poker Open. All told those cashes accounted for $4,497,387 in winnings – more than twice as much as he had ever won in a single year up to that point – and all that with eight months yet to go in the year. If Seidel hadn't already been inducted to the Poker Hall of Fame in 2010, he probably would have punched his ticket in 2011.
Former soccer player Sam Trickett had enjoyed a career-making year in 2010, winning over $1 million and establishing himself as a talent to watch in 2011. Then he hit the Aussie Millions in January and outdid himself, winning the $100K NLHE event for $1.5 million. Just days later he finished second to Erik Seidel in the $250K Super High Roller tournament, grabbing another $1.38 million and letting the poker world know he was a force to be reckoned with.
Vanessa Selbst came into 2011 on a high, having won both the Partouche Poker Tour Main Event and NAPT Mohegan Sun Main Event. In April of this year she pulled off a rare feat in tournament poker, winning the same tournament two years in a row when she conquered the NAPT Mohegan Sun event once again. Selbst defeated hedge-fund manager Dan Shak heads-up for $450,000. As it turned out she would be the NAPT's last champion, cementing her status as one of the short-lived tour's most successful players.
Scammer Of The Year
As 2011 began nobody knew who 18-year-old Jose Macedo was. But in late January he created an account on the 2+2 forums (LookingForProdigy) and wrote a post asking the poker community for any information about a mysterious Portuguese poker player who had won more than $2 million playing on European sites. Among the thread's hundreds of replies were messages from Haseeb "DogIsHead" Qureshi and cash-game wonderkid Dan Cates testifying to the prodigy's mad skills. There were also more posts from Macedo in the thread, under different 2+2 accounts, hyping himself.
At the beginning of March Macedo "stepped forward" and introduced himself to 2+2 via a rambling post. "Many of my friends and family have pointed out the thread about me on 2p2," he wrote. "They told me that there is a lot of speculation about me: that people are saying my story is fake; i don't exist; i am some mystical force, and; I even eat babies for breakfast. I am surprised and flattered (and a little scared), but I'm nothing so mythological I'm afraid. I'm just an ordinary 18 year old kid who loves to play poker." From there he spun a tale of his ascent up the online poker stakes via a 30-euro deposit that supposedly became a $1.6 million bankroll. In reality, the Portuguese Macedo's flowing English that so many posters praised was actually written by Qureshi. Though some posters claimed it was all too amazing to believe, others went for the story.
Soon Macedo had himself a sponsorship with Lock Poker – and just in time for Lock's big promotion, the Bluff Pro Challenge. With the month drawing to a close and a two-year sponsorship contract, a WSOP Main Event package and a cover story in Bluff Magazine on the line, Macedo wasn't turning any heads. Then he went on a tear, winning $100,000 from an unknown user with the screen name "SamChauhaun" and winning the challenge. Then, just days later, it was announced that Macedo had been disqualified for a "rules violation" – his backer (who turned out to be Cates) had logged onto his account and played a $26K losing session of $25/$50 pot-limit Omaha. Macedo accepted his disqualification while maintaining that he had won the competition fair and square via his own play.
Lock Poker CEO Jennifer Larson backed Macedo up in its statement and ended up with egg on its face when it was later shown that the "SamChauhaun" session had actually been a chip-dump by Qureshi, orchestrated by Macedo. Larson ended Macedo's sponsorship but never addressed the chip-dumping. Macedo's scamming wasn't done yet, and even more revelations about his relationship with Qureshi and Cates would emerge later in the year.
Next: Black Friday turns the poker world upside down, Full Tilt falls apart, and the powers that be in Las Vegas suddenly warm up to the prospect of taking over the online poker industry's most lucrative market.
Click here to read Part 2, The Darkest Hour.