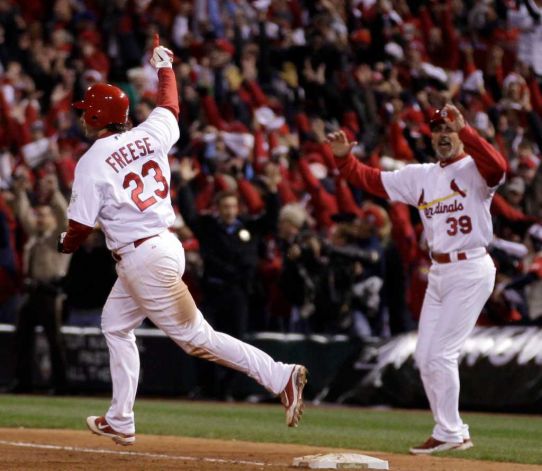 Last night in St Louis was one of those moments. One ranked up there alongside Billy Buckner, Steve Bartman and even Tony La Russa's bullpen-phone-gate moment from game five. Thursday in St Louis was different as the Cardinals came back from the brink twice and eventually notched a win in the 11th with a walk-off home run from David Freese.
Whether you thought it was how baseball's supposed to be played or both teams stank the place out you can't doubt World Series Game Six was one of the most enthralling ever played. It's not every season that a team trails five times, comes down to its last strike twice and sits two runs behind in the ninth and tenth before coming back to win. Who do these Cards think they are? The '04 Red Sox!?
It could all have been very different for the hero on the night, Freese. His dropped pop-up invoked memories of Buckner and could have been the defining moment at which the series concluded. Not on this night though.
Sports bettors would have been their collective nut while the game was going on and with live betting now widespread, it brings a totally new dimension to extra innings in baseball. Rupert Adams from William Hill admitting: "Texas traded as short as 1/100 around 04.15am (GMT), before drifting back to 2/1 at 04.54am. From here they went as short as 1/66 again at 05.00am before the scores were leveled around 05.30am."
Major League Baseball continues to surpass itself this year and you could be forgiven for thinking, why? The word lockout is a dirty word as far as the sport is concerned and even though they didn't have one this year it has had an effect. That's what happens when the nation's two biggest sports decide to shut up shop for a while.
As for baseball it's made this a season to remember. First it was the Red Sox in September. Now one of the most breathtaking World Series in recent memory. It's anyone's guess what might happen in game seven.
Comments