The Barcelona Affiliate Conference has come and gone but every single person who attended is without a doubt still recovering.
iGaming Business made the right decision moving back to Barcelona. The 1600 attendees were delighted with the venue and the weather was perfect, sunny and 30s/80s.
One of the only complaints was the shite internet connection at the conference hotel, but then again, it gave many of us a legit excuse to slack on emails so gracias Fira Palace!
The exhibit hall itself was in a great location, nice and close to the beach and city center. Foot traffic throughout the two days were a bit lighter than some operators had hoped, but isn't that always the case? As per usual, the Bodog Affiliate booth was the most impressive, this time with a ski chalet theme complete with a frat house style ice luge and a "hot toddy kit" take home for top affiliates.
Other exhibit hall and swag novelties of note included the Paddy Power Guinness Bar, The Class 1 Affiliates megaphone and midget affiliate manager and the Ladbrokes branded water bottles. Conveniently planted in our Fira Palace hotel rooms, the Mansion branded condoms and Come On! Affiliates Treo Citrus headache cures were nice touches as well.
As mentioned in the Day 1 Daily Summary, the BAC is not just about drinking- there are a few people who actually went to learn something, believe it or not. The main BAC session topics this year touched on the latest on regulation in Spain, SEO strategies delivered by several experts in the field and mobile gaming updates from Aideen Shortt.
Some tidbits of information shared with the crowd regarding Spanish regulation included that the first licenses will be granted to operators already in Spain by mid to late December and that those who continue to operate in Spain without a license will face fines anywhere from one million to 50 million Euros.
SEO lessons taught by expert Dave Naylor covered that traffic coming in on branded terms is the most valuable and will convert 50-60% of the time, social media strategies are not worth the effort unless you make it personal and traditional SEO strategies are now more important than ever.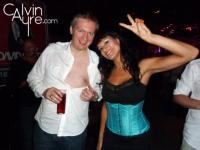 And now for the parties. Lets be honest and admit that the parties are not what they used to be (unless it's a CalvinAyre.com party, of course) but the online gambling affiliate crowd always manages to have some fun, especially in a city like Barcelona.
Free booze or not, the official conference parties dutifully served as a meeting spot for everyone after dinner and the usual VIP tables, redbull, tequila and vodka shots through the eye resulted in some pretty wasted BAC attendees…and some priceless DAF Awards.
Not to be left out was the Hall of Gaming schedule of VIP activities at Brian Pederson's posh apartment just outside of town, only to be cancelled on day two when the electricity was cut due to noise complaints from the neighbors.
That's about it for the BAC highlights and for those who were unable to make the it, were too drunk to remember what happened, or simply want a trip down memory lane, check out our pictures, day 1 and day 2 video summaries and upcoming video coverage…we are already looking forward to next year!