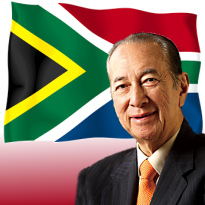 South Africa hopes to imitate Italy's approach to regulating online gambling, according to the review commission on the South African gambling industry. In offering the recommendations, commissioner Stephen Louw told members of parliament that the online gambling genie was already out of the bottle, and that total prohibitions, such as exist in the US and Australia, had not prevented either of those nations from taking up permanent residence in the top-10 online gambling country charts.
The commission recommended initially offering a limited number of licenses, even though Louw admitted "the danger is that with the offer of the carrot, it may grow unexpectedly." While wagering via mobile phones is currently permitted via the Western Cape Gambling Board, broader regulations would need to be enacted to "establish a licensing regime, allow online registration, allow servers to be located anywhere and also govern poker and betting exchanges." (Sounds like Betfair's got a man on the inside!) License holders would be permitted to advertise, and banks would be consulted as to how to enforce the new regulations' financial aspects. In the meantime, because old habits die hard, there are unspecified plans by the Reserve Bank and regulatory authorities to go after all gamblers currently winning online without giving the taxman his due.
John O'Reilly has signed on as Coral's new managing director of interactive. O'Reilly left his post as head of online at Ladbrokes a year ago, and claims to have been "itching" to get stuck in again. While he acknowledged the challenge of turning around an online operation that had "yet to punch its weight," he also believes "this challenge is right up my street."
Aging Hong Kong casino magnate Stanley Ho has reduced his already diminished stake in casino giant SJM Holdings from 0.18% to 0.09% by unloading 5m shares in an off-exchange transaction last Thursday. In another off-exchange transaction, Ho's 'fourth wife' Angela Leong acquired 5m shares. (Some coincidence, huh?) Ms. Leong also picked up 750k shares via more traditional by-the-books purchase, bringing her total holdings of SJM from 8.11% to 8.21%.
Comments