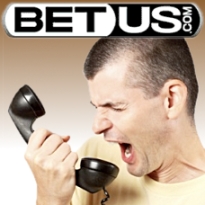 Online gambling affiliates who steered traffic to BetUS received the following message on Monday:
Unfortunately, the BetUS Partners Affiliate Program will cease to exist in its current form effective immediately. Nevertheless, we will remain committed to paying commissions on players acquired to date and will have staff available to you should you have any questions or concerns.
Since the BetUS Partners site will be taken offline, marketing materials and reporting will no longer be available. Please don't hesitate to contact us directly should you need to update your profile or payment instructions.
While the timing of the notice may have been abrupt, the gist of the announcement did not come as a great surprise to most affiliates, many of which have been complaining about their treatment at the hands of BetUS for some time. The cold shoulder treatment began shortly after Black Friday, when the company began telling everyone it was no longer accepting US customers, even though it nakedly continued to accept new sign-ups. Then the company switched off their tracking reports on US referrals, leaving affiliates in the dark as to how these customers were performing. Affiliate payments for March, and then April, went unpaid.
Affiliate questions posed to BetUS on these issues went unanswered, and when BetUS' communications team finally did surface, it was to announce the institution of a negative carryover policy. The absence of such a policy had been one of BetUS' main selling points, but that was then, this is now. The company went further, retroactively cutting off casino commissions without providing any justification or recourse. But worse was yet to come. Towards the end of May, affiliates began flooding forums with reports that their positive balances were being wiped out by apparent negative player activity. With tracking having been switched off, affiliates had no way of confirming BetUS' math. Sort of like the 'trust, but verify' philosophy, only minus the crucial verification aspect.
Honestly, the way the company has handled both their communications strategy and the media message on this issue suggests a rather dysfunctional 'ready-fire-aim' management style. While BetUS did not respond to requests for comment on this story, sources have told CalvinAyre.com that the company's internal discussions have focused on aggressive cost-cutting measures while attempting to maintain their current turnover. The company's owners apparently believe that avoiding any new high-profile push for US players is the best way to stay off the US Department of Justice radar. Basically, they're satisfied with the status quo, and don't want to do anything to kill their golden goose. Affiliates, on the other hand, appear destined to be well and truly plucked.
Comments