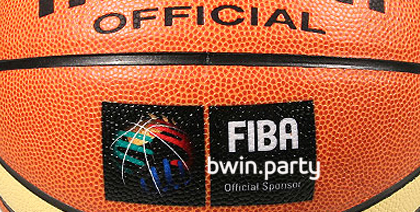 Bwin.party (Pwin) has announced an extension to its sponsorship of the world governing body for basketball. The world's largest public online gaming conglomerate now has a deal in place with FIBA until 2014. By that time, Norbert Teufelberger will hope to have mastered "slam dunking the funk."
Upon signing the deal, he added, "The promotion of sports has always been an essential component of the bwin sports brand philosophy. Basketball, along with football and motorcycle racing, is one of the three pillars of our sport sponsorship strategy."
Under the agreement Pwin gain marketing and media rights for a number of key FIBA events. This includes Eurobasket 2011 and 2013, and qualifying tournaments for the 2012 Olympic Games. The jewel in the crown is the men and women's 2014 FIBA World Championships.
Patrick Baumann, FIBA Secretary General and International Olympic Committee member, commented: "We are very happy to announce that bwin.party will continue to be a global partner of FIBA until 2014. This extension of the rights agreement proves that basketball offers a positive and growing platform for its sponsors. At the same time bwin.party is a key ally in our efforts to fight illegal betting and to achieve a working relationship with the gaming industry."
It has been a rocky couple of months since the merger created Pwin. The company's shares, that were at almost 200p following the merger, are now trading at closer to 140p. It's nowhere near the lows of 127.50p that they've seen already this year and there will be a number of bends in the road ahead for them to negotiate.