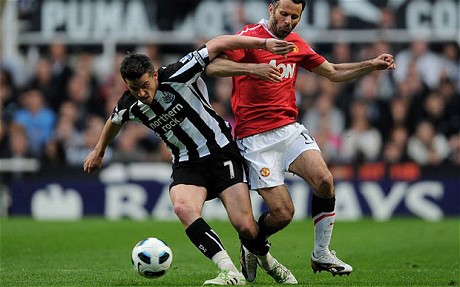 Manchester United's failure to win last night's encounter with Newcastle in the North East may well have given the Premier League's third placed side another glimmer of hope in the title race.
The stalemate on Tyneside said as much about United's failure to string two passes together as it did about the stolid nature of Newcastle's team. In past seasons this would have been a cakewalk for United though and after Saturday's abomination of a performance against City you expected them to bounce back.
For Newcastle this result takes them past the magical 40-point mark and means that Alan Pardew has managed to steer Chris Hughton's ship into port. All this without the services of Andy Carroll for much of 2011 and criticism mounting from everyone outside of the city.
Although Newcastle may now be safe as far as relegation is concerned, their opponents have reignited the Premier League title race ever so slightly.
They've given a flicker of that drug called hope to Chelsea. Since boss Carlo Ancelotti decided that he'd quite enjoy the odd chinwag with Fernando Torres about Spanish tapas whilst he warmed the bench, Didier Drogba has rediscovered some form. It's far from imperious but given the teams they're currently playing it doesn't need to be.
If they can muster a home win against Birmingham tonight it will cut United's lead over them at the top to six points and as they still have to visit Old Trafford, and Man Utd have to go to the Emirates, it's quite conceivable that this could go down as one of those classic ends to a Premier League season. At 9/1 to win the title with bet365, Chelsea is worth a punt and we could well see that eyebrow for another season in the Premier League.