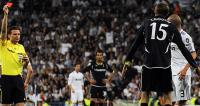 Tottenham Hotspur's European odyssey finally looks as though it has ended. Looking for a scapegoat some in the media are trying their hardest to not put the fault at the door of a man who was dismissed a mere 14 minutes into the encounter.
England striker Peter Crouch inexplicably slid in across the floor making the same challenge on two separate occasions in a move that looks as if he was showing off how he resembles a traffic calming measure when lying flat out. Unfortunately, the referee doesn't care much for speed bumps. This is a fact Real Madrid right back Marcelo knew only too well as he sat giggling while Crouch trudged back to the roads of Hertfordshire.
That's not to take anything away from Jose Mourinho's Madrid side. They were supposed to play for the easy 1-0 or simply settle for a goalless draw. This is slightly tricky when you're Emmanuel Adebayor and find Jermaine Jenas assigned to mark you on the first corner of the game.
In addition, with the traffic cone esque Heurelho Gomes in goal and Gareth Bale demonstrating what it's like to be thrown from a motorcycle every time he bombed forward, it's hard to work out if the gaffer had simply sent them on a road safety course for the week.
Adebayor later added a second header from a corner, before Angel Di Maria scored a sublime effort, and Cristiano Ronaldo added gloss to the score line as Gomes again floundered in the visitor's goal.
4-0 isn't insurmountable and this is ROFLhamLOLspurs that we're talking about so expect the unexpected. 5-0 in the return leg is quite an ask though.
The night's other clash saw a contender for goal of the season after Inter Milan's Dejan Stankovic volleyed in from fully 50 yards. Schalke goalkeeper Manuel Neuer's superman impression had laid it on a plate for the Serbian playmaker and he made no mistake. How Inter wish that had been a precursor to the rest of the match.
It ended up with the German side taking the first leg 5-2 in the San Siro. This means the Italian side must score four goals in next week's return leg before they can even think about a semi final berth.
Veteran Raul notched one of Schalke's goals as he edges closer to Andriy Shevchenko's record of 18 goals in Champions League knockout ties, and will have the chance of equalling it if he registers in the second leg.
For the bettors it wasn't the best of nights but the amount staked on Tottenham was likely great comfort to a number of the British facing sports books.