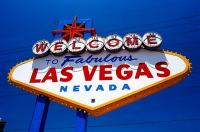 Figures released show that visitors to the city of sin are gambling a lot less than ever before.
A study by the Las Vegas Convention and Visitors Authority reports that 80% of visitors gambled in the city in 2010, dropping from a figure of 83% in 2009. The average number of hours gambled per day also dropped below three, as the average gambling budget also went down from $481.57 to $466.57.
The number visiting the city purely for gambling purposes also dropped from 13% to 9% as the amount entering the city limits visiting for pleasure and/or a vacation shot up from 35% to 47%, signaling a sea of change in the general lifestyle of visitors to the city.
The figures are hardly surprising as the gambling Mecca has already been overtaken worldwide by Macau and as other North American locations continue to start allowing casinos to be built it's not likely to get any better for the Nevada city.
The ray of light may come in the shape of a long awaited intrastate online poker bill but even that may not be enough in itself to save the state's ailing economy.
One company that owns a super casino resort in the city is most definitely Wynning, if you excuse the pun.
After signing a strategic partnership with PokerStars last week, Wynn Resorts have received a buy rating from a group of stock market analysts.
In a note to investors, Jefferies & Co. wrote that they "view the partnership positively WYNN shares as it represents a key strategic positioning for the company if and when internet gaming is legalized in some form, and should ultimately make WYNN a meaningful competitor against other gaming brands that have established similar capabilities, including Caesars Entertainment."
The analysts gave the shares a target of $130 and short of hiring Charlie Sheen as ambassador they've done the next best thing to show that they're Wynning.