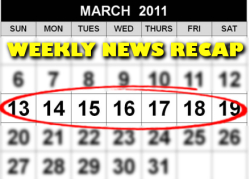 We look back at some of the best stories and some stories you might have missed in the gaming industry and gambling news for the week of March 13-19.
You need a doctor's note to attend Calvin Ayre's 50th birthday bash
If you've been in the gaming industry for any amount of time, there's a good chance that you've heard or perhaps even attended one of Calvin Ayre's notorious parties. So get ready people, Calvin's 50th birthday party will go down May 25, you'd better buckle up.
Google's Farmer and Panda changes, moving forward
We look at Google's algorithm changes and get some content strategies moving forward under Google's new stricter rules.
Who'd you rather? France v. Florida in online poker tax faceoff
Bodog Network Vice-President Jonas Ödman compares the newly regulated French market and the legislation currently on the table in the State of Florida. Looking at the facts, Ödman simply asks "Who'd you rather?"
Suzy Jackson the original Bodog Girl
John Blaise has a look back at the original Bodog Girl, Suzy Jackson. She answered the phones, wrote a blog, posed for some pictures and set off a trend of sexy girls posing for gaming companies that will last a long time.
Zynga aids Japan, adds virtual currency, ponders real money future
Steven Stradbrooke looks at the world's most popular free poker website and discusses the potential of them switching to their Facebook dollars to real dollars.
Florida intrastate online poker bill passes Senate committee 10-2
This week Florida's Senate Regulated Industries Committee has approved a bill that would create an intrastate online poker network in the Sunshine State. Steven looks at Bill SB812.
Sue Schneider looks at poker liquidity
Former head of Clarion Gaming and longtime gaming industry expert Sue Schneider gives us a great article on the concept of poker liquidity.
Professor Rose breaks down why Gov. Christie pushed the veto button
Professor I. Nelson Rose explains why he believes Governor Chris Christie vetoed the New Jersey Internet gambling bill.
US states seeking to pass online poker legislation due to Congressional paralysis
Steven examines the rush of states looking to pass their own online gaming regulation. He discusses companies such as Caesars Entertainment and MGM Resorts who disdain the piecemeal state-by-state approach.
VIDEOS
iGaming Super Show St. Patty's Day Party