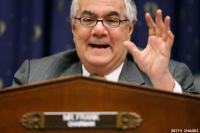 The failed attempt to create the USA's first intra-state gambling market in New Jersey may have something to do with proposals at federal level.
The state's Governor Chris Christie vetoed the bill on the day that he had to make a decision by due to "legal and constitutional concerns," but there's speculation that pressure from federal level may have forced his hand.
All this points to current proposals by Rep. Barney Frank (D-MA) and Rep. John Campbell (R-CA) to revive a bill at federal level much like the one that was proposed by Nevada Senator and whore hater Harry Reid.
Reported in the New York Post, the bi-partisan bill proposal is due in April and will allow Internet poker, blackjack, and other games. It will also give companies from outside the US the chance to open shops on US soil and pay taxes in order to be given that privilege.
Roger Gros, publisher of Global Gaming Business, told the Post, "The planets have aligned rather quickly for this federal version to succeed in Congress," he said, noting that it's being presented as a law enforcement bill to clean up the multibillion online gambling already in full bloom in the US.
"Since it's is couched as law enforcement legislation, it's gained new support from conservative Republicans," he said, adding it adds billions to depleted state and federal coffers as an alternative to hikes taxes.
It will also give more weight behind the argument that the legislation won't get very far if it doesn't please the Caesar's and Harrah's gaming brand who hold a significant clout at Federal level.
The interesting part of this story will be if Frank has a new strategy to give online gaming a home in the US.