Online Gambling: Monthly Form Guide
Feb 11
Summary:
January saw regulatory activity gather pace in New Jersey and round Europe. Online gambling legislation has now been approved by both the Assembly and the Senate in New Jersey, and it awaits the governor's signature – the governor has until February 25th to veto the bill otherwise it becomes law automatically. The governor has already signed a separate bill which allows exchange betting on horse racing. Iowa is another state showing interest in regulating online gambling after its Senate Majority leader said he was not opposed to the idea. In Europe, Greece is considering issuing up to 50 online gambling licences, and Denmark confirmed that the market there should open in the autumn with a 20% GPT rate. Ireland is to extend betting duty to online gambling at a rate of 1% of stakes and 15% of revenues for exchanges. A Greek court has also requested the opinion of the ECJ on whether gambling licences can be awarded to foreign companies. In France the competition authority raised questions about the online offerings of the PMU and the FDJ and their impact on competition. The UK government appears to be pushing on with proposals to require offshore operators to hold a UK licence.
Poker Traffic update:
Overall poker traffic growth on the .com sites remained weak in January. Within the mix, Pacific Poker is continuing to win share since its software refresh and its recent marketing investments. In France, while ring game liquidity has been broadly stable for a number of months, in tournament play PartyPoker recorded some good liquidity growth in January.
Source: H2 Gambling Capital, Morgan Stanley Research. Average seated players between 1800 and 2400 BST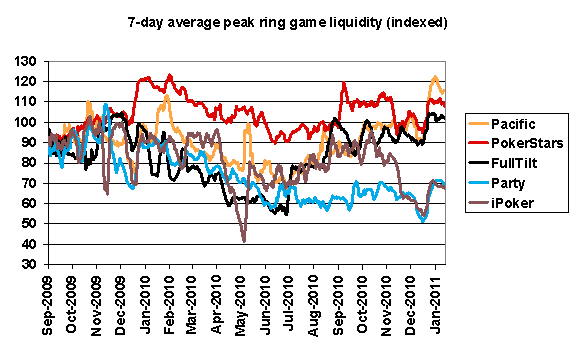 Source: H2 Gambling Capital, Morgan Stanley Research. Average seated players between 1800 and 2400 BST
Source: H2 Gambling Capital, Morgan Stanley Research. Average seated players between 1800 and 2400 BST
Ready to Roll: We highlight some of the key forthcoming dates and events.

Biggest Pot
Jungleman12, who missed out on last month's biggest pot, had the biggest win in January of $269,776 from Phil Ivey on Full Tilt. The next four biggest pots were all won on Pokerstars.
US Regulation and Prohibition:
The legislature in New Jersey voted to allow online gambling in the state. The bill received strong bipartisan support. Governor Chris Christie has until February 25th to veto the bill or it will pass into law automatically.
New Jersey's governor did sign an exchange-betting bill into law. He also signed legislation that would allow a new method of pooling pari-mutuel bets.
Iowa's Senate Majority Leader Mike Gronstal said that he is not opposed to the idea of allowing internet gambling in the state. Any legislation would include safeguards such as requiring cash deposits upfront.
The Baltimore City Paper reports on ongoing efforts by Maryland and New York prosecutors to pursue those involved in payment processing for US-facing online gambling businesses. Maryland's investigation alone has now seized $65m.
Nevada regulators have formed an alliance with the Alderney Gambling Control Commission. In an encouraging sign that the state is taking a more favourable view of the industry, the Nevada Gaming Control Board said that 'we need to look at the places that have been regulating Internet gaming and engage these regulators'.
Two new online gambling lobbying groups have been formed in the US. The US Online Gaming Association is headed by the former executive director of the Poker Voters of America, and the American Institute for iGaming will be led by the lead lobbyist for the online gambling bill passed in New Jersey.
European Developments:
The Greek government will award up to 50 licenses for online gambling before the end of 2011. It also plans to allow VLTs by the end of the year.
The Greek Council of State requested the European Court of Justice's opinion on whether gambling licences can be awarded to foreign companies. The current system was challenged by three British companies on the grounds that OPAP's monopoly is contrary to the European Treaty's guarantee of freedom of establishment.
The UK Culture Secretary is planning to prevent overseas-licensed online gambling companies from advertising in the UK. He is also considering banning use of credit cards for internet gambling.
The French Competition Authority said that coexistence of PMU and FDJ's offline and online betting offers could limit competition. It also noted that the legal limit on the payout ratio inhibits price competition.
Betfair's Italian licence was suspended by the regulator, AAMS. AAMS is investigating whether Betfair has breached the terms of its .it licence by continuing to offer bets from its .com site. Betfair is still waiting for the regulator to bring in rules to allow it to apply for an exchange-betting licence.
The Irish Finance Bill included language that would extend the 1% tax on betting turnover to online bookmakers. The measure is expected to raise €20m of additional revenue for the government. Betting exchanges will pay duty at 15% of commission.
The Skatteverket, Sweden's Tax Agency, has announced it is investigating internet poker companies which claim to be based overseas but have much of their operations based in Sweden.
MPs held a debate on the future of the horse racing levy in the House of Commons. They suggested a commercial funding system based on the sale of a 'racing right' to bookmakers.
The Spanish autonomous region of Aragon approved legislation that would allow internet gambling. The move comes despite efforts to regulate online gaming at a national level in Spain.
The Danish government reassured operators that the market will open in autumn of this year. A 20% gross profit tax is still expected.