Online Gambling: Monthly Form Guide
Jan 2011
Summary:
December saw considerable activity at the federal level in the US with Senate majority leader Harry Reid trying and failing to attach legislation to allow online poker to bills that were passed during Congress' lame duck session. Sen. Reid spoke out publicly in favour of online poker for the first time, but with the Republican party controlling the House of Representatives federal online gambling legislation looks unlikely to pass in the short term, although there is uncertainty over whether or not leading Republican online gambling opponent Sen. Jon Kyl will stand for re-election in 2012, or whether some agreement can be reached to advance legislation in this session. There was more positive news for online gambling at the state level, with three new online gambling bills being introduced in California and the New Jersey bills making further progress. There was also activity in Europe – in Germany the ministers responsible for gambling for the 16 Lander met to discuss regulation of online gambling, and while it was decided that lotteries should remain with the state monopolies, no decision was reached on sports betting. However Schleswig-Holstein looks likely to press on with its proposals to regulate online gambling once the Inter-State Treaty ends at the end of this year. In Spain the latest proposal is for taxes of 5% of turnover on all online betting products, and European countries agreed that online gambling regulation needs to be coordinated.
Poker Traffic update:
Poker traffic saw a larger drop over Christmas and New Year than last year with both falling on weekends. Pacific Poker (888) is seeing continued growth in market share and liquidity is now around 30% ahead of where it was before the software relaunch in the summer. Note these charts exclude segregated Italian and French liquidity.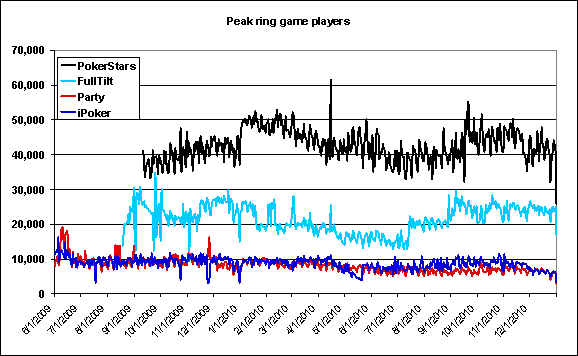 Source: H2 Gambling Capital, Morgan Stanley Research. Average seated players between 1800 and 2400 BST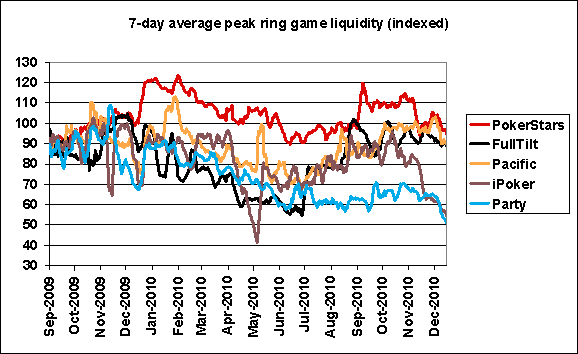 Source: H2 Gambling Capital, Morgan Stanley Research. Average seated players between 1800 and 2400 BST
Biggest Pot:
Tom 'durrrr' Dwan won December's biggest pot of $129,986 from jungleman12. The two players played for each of the top four pots, winning two each.
US Regulation and Prohibition:
Senate majority leader Harry Reid did not manage to get his bill to allow online poker passed in Congress' lame duck session. Federal legislation now looks less likely in the near term with the Republicans holding the House of Representatives.
The bill attracted considerable interest during the lame duck session, and Harry Reid spoke out publicly in favour of online poker for the first time.
Legislators in California now have three online gambling bills to consider. Bills have been introduced by the California Online Poker Association and Senator Rod Wright and the Poker Voters of America will introduce a third bill shortly.
Washington DC put proposals for legalizing online poker and fantasy sports gambling into a bull aimed at plugging a budget gap. The amendment would establish a private computer network that would allow customers to play online poker as long as they were in the district.
New Jersey's Senate and Assembly have both approved a package of gaming and sports bills that would allow online sports betting in the state… The bills would allow an online betting exchange and allow out of state residents to bet on horseracing online.
…although the views of the US Department of Justice on sports betting could become an obstacle here.
New York State approved a rule change to allow advanced deposit wagering accounts to be processed on the internet. The move is an attempt to minimise the impact of the closure of the New York City Off-Track Betting Corporation.
Federal prosecutors in Washington state have seized nearly $8m from payment processors for online poker companies. PokerStars and Full Tilt pulled out of Washington late last year.
Arizona Senator Jon Kyl, a major opponent of online gambling, has not said whether or not he will run for re-election in 2012.
Reuven Brenner of McGill University and Gabrielle Brenner of HEC Montreal argue in Forbes magazine for the legalization of online gambling in the US.
European Developments
EU ministers agreed that a national approach to regulation is insufficient to deal with online gambling. This is the first unanimous position that EU member states have agreed on online gambling and paves the way for increased cooperation.
Ministers from Germany's Lander have been discussing whether to allow private operators into the country's online sports betting market. The Lander agreed to maintain the state monopoly on lotteries but had not agreed future regulation for sports betting. However Schleswig-Holstein plans to issue online sports betting, casino and poker licences to private operators from 2011.
Spain is considering allowing online sports-betting, poker and casino with a 5% turnover tax. The proposals are subject to consultation.
The Irish Minister for Justice and Law Reform published a paper containing options for the future regulation of gambling. The paper suggests that offshore operators should hold an Irish license.
Regulated online gambling in Denmark was delayed by a challenge from casino operators who complained that the proposed 20% tax rate is too low compared to the 41% rate land-based companies pay. The chief executive of monopoly Danske Spil said that it was unlikely that the land-based rate would come down.
eGamingReview carried an interesting interview with Denise Coates of Bet365, which had revenues £358m and operating profit of £104m in 2010.
News from around the world
Betsson announced it had opened a software development office in India to develop software for both European and Asian markets. It said that as a result it already agreed a contract with an Asian operator.
A bill to ban online gambling in Russia was introduced. The bill proposes fines between 500 and 2000 roubles for people gambling using mobile networks or the internet.