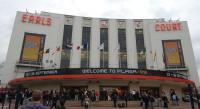 This time next week the yearly ICE Totally Gaming will all be over but in the meantime a day doesn't go by when we don't see gambling industry companies falling over themselves waxing lyrical about what they'll have on show. Today is no different.
Hot off the back of Bodog announcing they're closing on the billionth hand of Blackjack, Gamesman, technology supplier and super hero to the gaming industry, will be celebrating the production of their 20 millionth push button at ICE 2011
Mark Smith CEO, Managing Director, and "Gamesman" himself, said: "All of our breakthrough products have either been launched or shown at the London show and as such it's totally appropriate for us to celebrate our 20 millionth at ICE. Not only are we looking forward to marking our past success of which we are extremely proud, but also to use the exhibition to launch our latest technology-driven gaming solutions and build towards achieving the next 20 million!."
Aristocrat Europe, meanwhile, will be unveiling 20 brand new games at the show most of which will be multi-denomination, therefore affording greater flexibility in operators' slot strategies. The new games will include triple standalone progressive game Stuntman Sam, the double standalone progressive theme Emperor Penguin, and Don Quixote and Dragon Emperor which will lead the way in the new REMIX category.