The final table is set at the 2011 PokerStars Caribbean Adventure Main Event, and while anything can happen once the cards are dealt, Chris Oliver is making a serious case that he deserves to be the ultimate winner. Oliver led the chip count after Day 3, dropping to fourth after Day 4, but clearly that just pissed him off. Oliver roared back on Day 5, personally knocking out six of the 14 players to hit the rail, and finishing with a chip count three times as tall as that of his closest challenger, accounting for 42% of the total chips in play.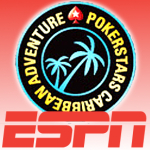 Sadly, the final table will be another sausage fest, as Day 3 leader Ana Marquez was eliminated (by Oliver) in tenth place. While many were hoping that 2011 would see the first ever female player at a PCA final table, Marquez went deeper into the tourney than the previous female record (Kathy Liebert made 12th place in 2009), so that's something.
Going out in 11th place was 2003 World Series of Poker champ Chris Moneymaker, whose comeback dreams died after running headlong into the dreams of Galen Hall (who finished second overall on the day). While $130k isn't chicken feed, Moneymaker was hoping for so much more, and not just in monetary terms.
When play gets underway Saturday at 4pm EST, the final table will look like this (in order of chip count): Chris Oliver (19.67m); Galen Hall (6.43m); Sam Stein (5.855m); Mike Sowers (3.685m); Anton Ionel (3.52m); Max Weinberg (3.35m); Bolivar Palacios (2.445m) and Philippe Plouffe (1.555m).
Starting at 5pm EST, ESPN3.com will begin a one-hour tape delay of the final table action. EPSN2 will join in the fun for computer illiterate viewers starting at 10pm. The play will roll out unedited, with WSOP commentator Lon McEachern and poker pro David Williams calling the play in real-time. Two other pros, Daniel Negreanu and Chad Brown will offer insightful analysis, words of wisdom and/or bawdy jokes as applicable.
It's a risky move by ESPN, as the traditional approach to televised poker involves a lot of editing to keep the action going and to avoid the interminable pauses that are a natural part of the live game. As Alfred Hitchcock famously remarked, cinema was "life with the dull bits cut out." Will poker TV audiences – many of whom will have never attended a live poker event – be willing to sit through a 'warts and all' depiction of their heroes thinking?
Comments