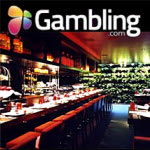 There's been some speculation that the Bodog Brand intends to make a strong bid for the gambling.com domain. Word is that Calvin Ayre and some of his staff have made reservations at London's fashionable L'Atelier restaurant — the site of the company's successful £3.8m bid for the Slots.com domain — on the day the gambling.com domain goes up for auction. The domain's owners, MediaCorp, have set a reserve bid of $9m. Is L'Atelier about to witness another multi-million deal done with mobile phones in one hand and beers in the other?
Sadly for L'Atelier staff hoping that the Bodog Brand bigwigs would make it rain again, the odds are against it. While Calvin will tell anyone who'll listen that the Slots.com purchase was the best deal he'd ever made, the best we could get out of him about these gambling.com rumors was 'no comment'. Then again, at the time he was still hung over from his New Year's excesses, so while we're sure we said 'domain sales,' he may have thought we said 'no grain ales' and he was trying to be ironic or something.
Bottom line, none of us here at CalvinAyre.com has, as of yet, received any invitation to L'Atelier on the day of the auction. So, as far as we're concerned, the whole 'Bodog Brand to bid for gambling.com domain' thing just isn't happening. It's just not. We know it's not, because if it were, we'd have been invited. And we haven't been invited. We would have been invited. We would. Wouldn't we? Why wouldn't we? Did we do something wrong? Have we not done everything that's been asked of us? Listen, we work hard for this company. We work like animals here. Like dogs, get me? We… work… like… dogs. Is it so much to ask, really, considering you work your fingernails to the fucking bone for a company, and this… this… This is why we never get invited anywhere nice.
Aw, fuck… Nice one, Steven.