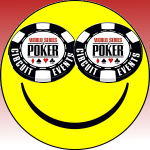 Records continue to fall at the World Series of Poker Circuit stop at the Horseshoe Hammond in Chicago. Last week, the initial prelim event drew some 1,611 players, a new WSOP-C record. Now the $1,500 buy-in Main Event is underway, and the 872 players taking the field mark another new high water mark in WSOP-C history.
Considering the Circuit was virtually written off as a goner just a year ago, the steps taken by organizers to reinvigorate their flagging fortunes might well end up on the future case study list of business schools. Either that or some fundamentalist Christian groups will view organizers as having performed a miracle (such as raising Lazarus from the dead) and take it as a sign that God wants his followers to ante up. Perhaps not, but we can dream.
Notable names taking the field on Friday included Sorel Mizzi, Jason Mercier, Kyle Bowker and Thomas Marchese. They'll be chasing a total prize pool of some $1.2m, with nearly $250k reserved for first place. The Main Event concludes this Sunday (24), but the Chicago stop will also feature the first of four $10k Regional Championship events, which gets underway on Monday, and is expected to wrap Thursday (28).