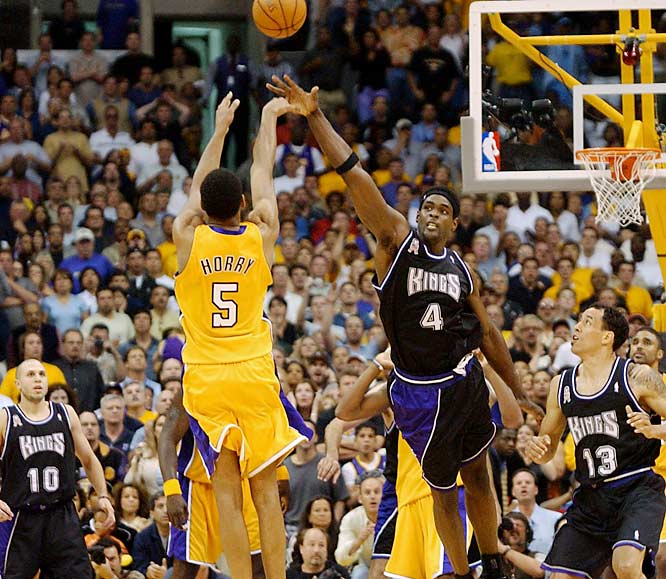 Heading into game 5, the Lakers were 18-0 when it comes to game 5's in the playoffs when the series is tied. You can now make it 19-0.
If you're a Phoenix Suns fan, you must be scratching your head wondering how the Suns could have lost game 5 to the Lakers. The Suns played a nearly flawless game with strong production from their bench and solid defense, but it just wasn't enough. The Suns were able to battle back in the late stages of the game to tie it, and that's when history took over. Just when the streak looked to be in danger a game-winning buzzer beating prayer from Ron Artest sealed the deal.
In case you missed it, here's Queensbridge's finest
The Phoenix Suns fans shouldn't feel bad. That's how the Lakers do it. Game 5 the Lakers over the course of the Lakers playoff history has been a magical game. It may have all started with the logo, Jerry West who hit one of the most memorable shots in NBA playoff history.
Jerry West Game 5 Half Court Heave
Following in the footsteps of the great Jerry West was another Lakers champion, Robert Horry. They called him Big Shot Bob, because over the course of his career, well, he hit really big shots. The funny thing about Robert Horry is he may not even play during the regular season, but come playoff time, Horry was always an allstar. Among the many, this game 5 buzzer beater may have been Horry's biggest shot.
Not to be outdone is Derek Fisher's incredible and unbelievable game winner against the San Antonio Spurs. Just when it looked like Tim Duncan had won the game with a spectacular late game shot, that's when Fisher stepped in said "Not today". Of course it happened in Game 5, but this shot may go down in history as one of the most spectacular game winning shots ever. It's known only as ".4"
It's hard to say where Ron Artest's game 5 heroics will rank in archives of Laker's playoff history magic, but if they go on to win the series and the championship you can be sure that the Ron Artest, the baller from the streets of Queensbridge will have etched his name Laker lore forever.
Of course just to keep it as real as possible, the greatest Laker buzzer beating playoff shot didn't come in a game five, it came in a game 4 against the Boston Celtics. A skinny kid with an infectious smile took it the shot, they called him Magic, and he brought the magic to the dirtiest baby sky hook ever shot.