Responsible Gaming Seminar (WLA Support)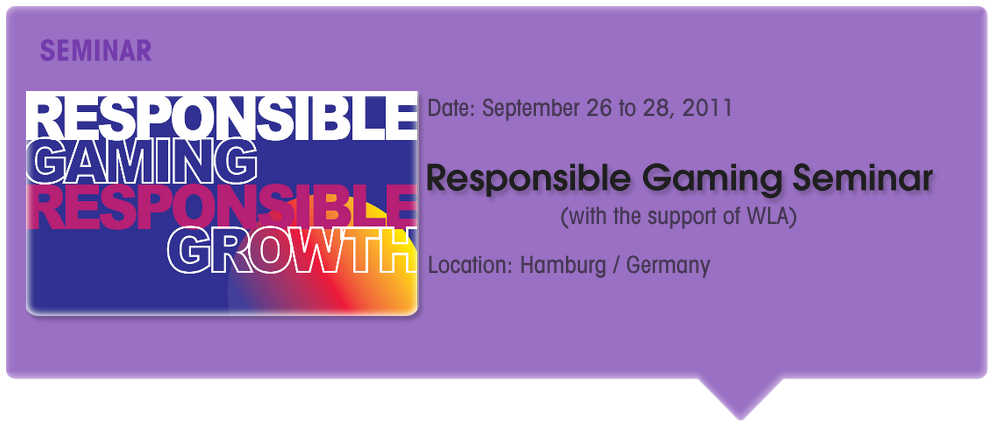 [buttonrow count="1″]
[button link="https://www.european-lotteries.org/events/register.php?id=101&event=2186″ copy="Website" onerow="true" target="_blank" /]
[/buttonrow]
The Responsible Gaming Seminar occurs on September 26-28, 2011. The event, hosted by Lotto Hamburg, will be at Lindner Hotel Am Michel in Hamburg, Germany.
This will be a practical seminar for members who want to improve their knowledge about responsible gaming, the EL Responsible Gaming Standards and the associated certification process. The Responsible Gaming Seminar will provide the delegates opportunities for discussion, interaction and peer-to-peer learning. Less experienced Responsible Gaming practitioners will have the opportunity to learn from their more experienced colleagues.
Expert practitioners, academics and clinicians will share a wealth of experience on the topic of research and treatment. Speakers representing retailers, marketing, regulation and customer support will provide presentations on responsible gaming supplemented by practical lottery staff reflections from the marketplace.
This seminar will attract Top and Middle management in Corporate Affairs, Corporate Social Responsibility, Human Resources, Responsible Gaming, Regulators, Board Members, Marketing and Sales Managers, Sustainability.
The EL Responsible Gaming Standards and EL Responsible Gaming Certification Framework are important elements of the pragmatic application of CSR and Responsible Gaming in the Lottery sector. Whatever the feelings of operators of State Lotteries in Europe, it is clear the European Commission feels these issues are both important in their own right and important for determining the future direction of on-line gaming in the European sector.
Registration and confirmation of attendance should be no later than August 25, 2011. To register for the Responsible Gaming Seminar, click here.