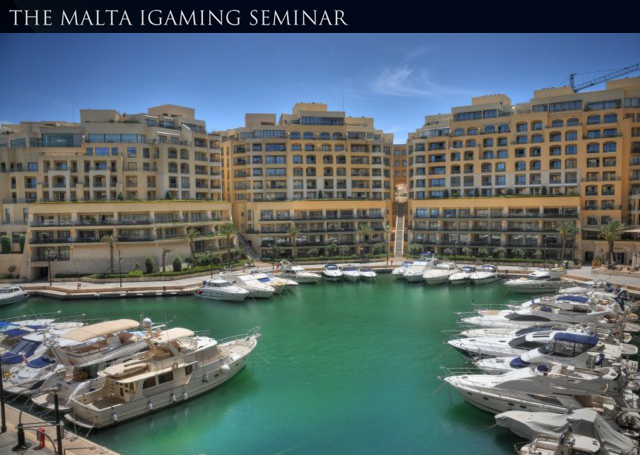 [buttonrow count="1″]
[button link="http://www.maltaigamingseminar.com/content/index.php?option=com_content&view=article&id=51&Itemid=58″ copy="Event Page" onerow="true" target="_blank" /]
[/buttonrow]
Malta iGaming Seminar 2011
If you love pool parties and partying with industry professionals, and really who doesn't? Then you'll love MiGS 11.
MiGS 11 is a perfect example of how to mix business with pleasure. It's an opportunity to network with other iGaming Operators and Suppliers over drinks in the sun while surrounded by the blue waters of the Mediterranean and a small team of experts. You can't beat that.
Just when you thought it couldn't sound any better than that, the closing party of the Malta iGaming Seminar 2011 makes this event a must attend.
As soon as the seminar concludes at 3pm, the party begins. With an open bar including free flowing Champagne, top local dj's mixing it up and obviously all the Malta based  iGaming eye candy in attendance, this now infamous Pool Party is certain to be one anyone in attendance won't soon forget…or remember depending on how many cocktails one can consume.
During the pool party the top 3 winners of the previous night's MiGS 11 Free Roll Poker tournament will be picked up from the beach club with all the fanfare by the 48 ft Portofino Sunseeker for a  4 hour charter, complete with new friends and champagne on board, for those of you who don't know, that's the definition of balling.
For all of you poker studs out there, put your money where your mouth is and register for the seminar and join in the free roll tournament which is exclusive to MiGS11 attendees only.
Register for the for the full Malta iGaming Seminar through which you will learn why you should possibly already be set up in Malta, which is considered to be the leading jurisdiction for online gaming.
Last year's MIGS 10 was a great success with over 250 attendees. The event featured 'Our Malta Story's by  Betsson CEO, Magnus Silfverburg and  Netrefer CEO, Rafael Arnold, who gave a no holds barred overview of their companies' setup process which was invaluable information to anyone considering a setup in Malta.
In addition to showcasing several 'Our Malta Story's again in MiGS 11, with presentations from the CEO's of  Betsafe and Mr. Green,  this year's event will also bring some focus onto the European igaming industry's current issues in the form of  round table discussions where panellists will discuss and disseminate questions posed by the attending delegates.
Just to spice things up, one panel will also be made up of three separate jurisdictions, namely, Malta, Italy and Alderney, who will be discussing how current legislative issues are affecting their respective jurisdictions.
The event is organised by a group of key industry partners including:
CSB Group, a company that will help you understand all the in and outs of the legal system and tax benefits of being in Malta
BMIT, Malta's leading co-location company with a number of key clients and the experience to ensure stability
VacancyCentre.com, a recruitment company that will in no time be able to find you ideal candidates for your operation in Malta
Megabyte, a Systems Integration specialist company who have over 30 years of experience proving IT solutions
Greentube,  a gaming software platform provider, considered to be an innovator of today's gaming era
RE/MAX Malta, a real estate company that facilitate relocation of staff to Malta by helping you find you your office space and organise accommodation for your company's staff.
So don't delay, register for the MiGS 2011 now and we'll see you in the pool!