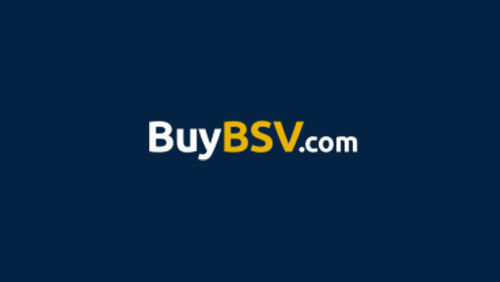 One of the biggest headaches of gambling online is finding a deposit option that works reliably. Credit Cards are easy, but transactions for gambling are likely to be declined by financial institutions. Thankfully, Bitcoin SV is guaranteed to work, and is very easy to obtain. We'll tell you how.
Where can I get Bitcoin SV?
Unlike other digital currencies, which can be tricky and costly to acquire through digital currency exchanges, Bitcoin SV has the advantage of BuyBSV.com. Available in over three dozen countries and most of the U.S., BuyBSV lets you purchase Bitcoin SV in just a few moments using your credit card, for very low fees, and start using the real Bitcoin for gambling transactions.
What do I have to do to buy Bitcoin SV?
The first step is singing up.
1. You can start signing up an account by using the Buy screen. Just click Buy Now, you can fill in the details later.
2. Next, simply provide your email and a password.
3. You'll then be asked for your country of residence, and the payment method you plan to use.
4. You'll then receive an email from Coinify, the service BuyBSV is built on,to confirm the creation of your BuyBSV.com account. Just click the link in the email.
5. Then go back to BuyBSV.com and click on Buy Bitcoin SV again. You'll receive a message confirming you've successfully made an account, and informing you that you'll now simply need to perform an identity check. This is necessary as BuyBSV wants to protect you against potential identity theft from bad actors.
6. Simply fill out the 'About You' form, providing your name, home address, and place of birth.
7. You'll then just need to fill out some basic information about how you plan to use BuyBSV.
8. Have your photo ID ready, you'll next need to take a picture of it, followed by a a selfie. I recommend using your mobile phone for this, as my laptop wasn't able to take a picture of my ID clearly.
9. The BuyBSV team will then verify your information. In my case, it only took 90 seconds.
Start Buying Bitcoin SV
10. You'll then be taken back to the trading screen, where you'll be able to purchase Bitcoin SV.
11. Once you've decided how much BSV you want to buy, you'll see a confirmation screen of your purchase amount, fees, total cost, and the current estimate time to complete your purchase. In my case, it was approximately 1 hour. On this screen, you'll need to provide your Bitcoin SV Wallet address.
12. Then provide your payment details, and complete your purchase.
From start to finish, the whole process of signing up a BuyBSV account, setting up a Bitcoin SV wallet, and completing my purchase details took 30 minutes. But with most of the process out of the way after the first time, topping up my wallet should only take a couple of minutes in the future.
When you're done gambling, you can cash out your winnings using BuyBSV as well, provided you live in a region where that service is offered.
What if I don't live in an area currently serviced by Bitcoin SV?
Thankfully, there are plenty of digtial currency exchanges that allow you to buy and sell Bitcoin SV. Check out our list of exchanges to find an exchange that will work for you.