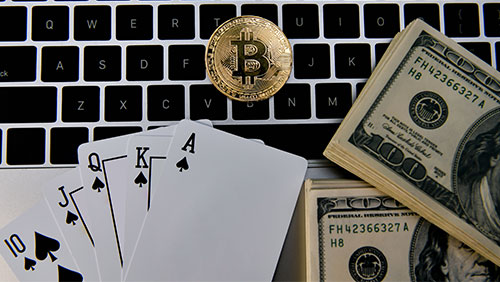 Bitcoin SV is the best payment option online gambling operations can adopt thanks to its speed and low transaction fees, but it can also help in many other ways.
If you aren't familiar already with the reasons Bitcoin SV is your best option for payments, we have a resource that explains how it will be your fastest option with the lowest fees.
But beyond adding Bitcoin SV as a payment option, it's possible to build your operation almost entirely around Bitcoin SV, with games running on the blockchain. This brings several additional benefits to your operation, which can help you make more money, save time, and improve relationships with customers, regulators and business partners.
Bitcoin SV Gambling is provably fair
As we cover in a separate resource, games coded to write to the Bitcoin SV blockchain introduce Provably Fair Gaming, which allows customers to verify the game they are playing is fair for every bet.
This has a few benefits. Customer confidence is increased, which should result in better retention long term. Additionally, as every action is recorded to the blockchain, regulators can confidently observe an operations actions, improving that relationship as well.
Faster Settlement Rates
An issue sports books often see are slow settlement times around big events. Huge volumes of bets getting settled at the same time, like say on an NFL Sunday, mean players often have to wait to receive their winnings and may not be able to place the next bet they're eyeing.
This issue is solved by using the massive scaling ability of the Bitcoin SV blockchain, as well a combination of technologies like Oracles and Smart Contracts. By using an oracle of sports results to inform smart contracts on the blockchain, wagers can be settled within moments after an event ends, paying out the customer nearly instantly.
Better yet, this saves a huge amount of money for an operation as they can reduce the need for hardware on their own end, allowing Bitcoin SV to do all the work for you.
Smart Contracts can cut out middlemen and improve relationships
Gambling operators will be familiar with the complicated payment systems that are necessary to pay out service provides, affiliates, and other business partners. Thanks to smart contracts, this can all be simplified and allow all parties to receive their payouts instantly, as each bet is settled.
A bet recorded and paid out on the Bitcoin SV blockchain can be equipped with a smart contract. That contract can be used to pay out B2B partners, on every single wager, in the amount agreed upon in a contract.
Using the same principles as Provably Fair Gaming, all parties involved in the wager (the operator, service provider, affiliate, etc) can see the amount of the original bet and the amount of their payout. And each of them make more money as a result, as no third party is necessary to conduct a transaction between them.