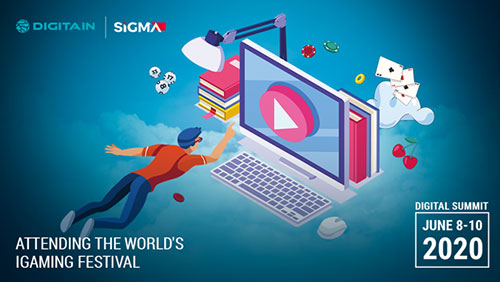 Digitain is very pleased to sponsor this year's Sigma Asia and Sigma DeepTech Virtual online conferences, taking place on 8-10 June.
Sigma Asia 2020 offers visitors to participate in a wide range of topics about the Asian region, including new market opportunities and product strategy during and post COVID-19.
Sigma DeepTech 2020 focuses on important technology questions facing the industry as it evolves including; Big Data, Artificial Intelligence, Game Design and User Experience.
Over the three days, conference visitors will also learn from the shared experiences of over 80 industry thought leaders, including Digitain's Director of Product Management; Martin Clarke –
Martin will take part in the panel discussing the impact of eSports on the industry during this difficult period. He will also feature in a conference video presentation on the trends and challenges for User Experience in the future.
Martin Clarke:
Martin Clarke for Digitain said; "We, at Digitain, as event Silver Sponsors, are very pleased to be able to support and take part in this innovative virtual conference, and to collaborate with such a great panel of industry leaders.
We will have an opportunity to showcase our products to a wide, international audience and to discuss how we have reacted positively and pro-actively to the crisis by introducing new profitable revenue streams for our partners to our product portfolio."
For any enquiries, please contact [email protected]
About Digitain
Digitain is a sportsbook and casino platform provider offering best of breed turn-key and white-label solutions. The company's primary focus is on the regulated European market, with ambitious plans to expand its geographical footprint into the Americas and Asia. It employs more than 700 of the brightest trading minds in the gaming industry (part of a wider workforce of over 1,700 staff) with the aim of providing a one-stop-shop for its customers. The multi-channel Digitain Gaming Platform allows operators to plug-in sportsbook, casino, live dealer and virtual sports modules, and includes an integrated payment gateway, bonus engine, CRM system and dedicated customer support. Its sportsbook product covers 65 sports, taking in 7,500 leagues, and offers more than 3,000 betting markets. It also offers odds on 35,000 live events each month, while its casino solution has 4,000-plus games from major casino suppliers (such as Novomatic, Microgaming, NetEnt and Yggdrasil).