With the George Floyd race riots lighting up Minneapolis in a blaze of fire, retribution and racial tensions are diving a proud City. With the NFL coming back in Autumn, the former NFL executive Joe Lockhart has used a column in CNN to argue that Colin Kaepernick should come back to American Football and in particular the Minnesota Vikings.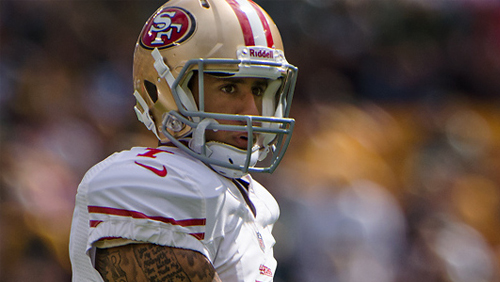 It's been almost four years since Colin Kaepernick threw a pass in the NFL, and since he left the San Francisco 49ers in the fallout from him taking the knee in protest at the powers that be. The national anthem, to many, hasn't sounded the same. Kaepernick, however, hasn't played since, despite showing off exactly how physically fit he still is with a range of workout videos.
America is a country that stands divided on the race riots, and on the side of George Floyd, many people have looked to Kaepernick for leadership. He hasn't let them down, funding a legal defense team to help protestors know their rights and even setting up a Twitter page dedicated to coordinating efforts on their behalf.
What Lockhart argues football fans could really do with is Kaepernick back in his quarterback role on the field, in some ways to unite Minnesota and give the various factions a leading light to guide them through what are clearly very difficult times.
Kaepernick's 'chequered history' is something outsiders often point to as fact, but while Kaepernick made headlines, what exactly he did that was wrong is now something many in and out of the game are starting to look at with fresh eyes. Allegations of police brutality polarize many States in the U.S.A., but Kaepernick has never changed his stance, something which must rile those right at the top of politics in America.
As Lockhart said in his column, how society should now view what Kaepernick did over three years ago is perhaps very different to how the actions of a principled and passionate man fighting for what is right were seen at the time.
In the wake of George Floyd's death, could Kaepernick really be a uniting force at the Vikings, however, or would he further polarize opinion and provide – through no fault of his own – more of a distraction that a deity for those in the land of 10,000 lakes.
Minnesotans want a Vikings team that could threaten the playoffs, and the current NFC North odds suggest that the arrival of Kaepernick might tip the balance. The Vikings are 13/8 to top the NFC North, the same odds as the Green Bay Packers, who did not enjoy the best NFL draft in history. Others taking part in the NFC North have more than some ground to make up, with the Chicago Bears 7/2 shots to make the playoffs and Detroit Lions outsiders at 13/2.
The Minnesota Vikings are currently undergoing a difficult build-up, with the race riots in the city – in a time of Coronavirus crisis, no less – lending an air of fraught tension to everything in the Northern U.S. State.
Lockhart's admittance that he was wrong back in 2016, and that 'teams were wrong for not signing him' is tacit in its frankness.
"Watching what's going on in Minnesota, I understand how badly wrong we were." Says Lockhart and they are words that people need to read.
Lockhart defended the league in the column.
Having scored in Super Bowl XLVII for the San Francisco 49ers, Kaepernick became the ultimate symbol for racially motivated injustice. He was screamed at for taking in knee in some quarters, while hailed as a moral crusader in other parts of the world.
Would he be the player he was when he left? That's not something anyone can be certain on until – or rather if – Kaepernick – ever return to the football field in a professional capacity.
As the man himself said in a Nike Advert: "Believe in something, even if it means sacrificing everything."
As Lockhart says in his CNN piece, "It will not solve the problem of blacks and police violence. But it will recognise the problem that Kaepernick powerfully raised, and perhaps show that, with courage, real progress can be made. It's the right thing to do. And it's something the city — and all of America — needs right now."
It's hard to disagree with those words, and they might lead to the return of one of the NFL's most controversial yet inspiring characters in time for the new season.
Who wouldn't want to watch that?