On March 15, Ukrainian Gaming Week 2020 will feature a panel discussion with Ukrainian and foreign experts. They will discuss key principles of Ukrainian gambling industry regulation, evaluating the fundamentals of the gambling legislation and prospects of the gambling market.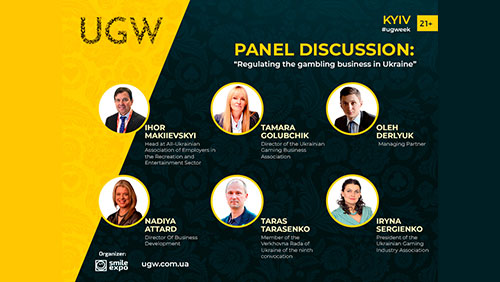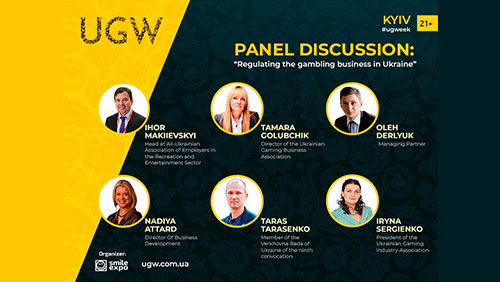 Discussion will be titled: "Regulating the gambling business in Ukraine".
Experts will focus on the following issues:
• key legislative norms and provisions;
• benefits of unshadowing of the gambling business;
• tax liabilities of the gambling market representatives;
• player personal data protection – Cyber Security
Discussion participants
Activity will engage representatives of public authorities, leaders of specialized unions and specialists from the international companies:
• Taras Tarasenko – People's Deputy of Ukraine, member of Servant of the People political party;
• Iryna Sergienko – President of the Ukrainian Gaming Industry Association. Expert in gambling and sports law, Member of the Committee on Ethics and Fair Play of Ukrainian Football Federation;
• Ihor Makiievskyi – Head of All-Ukrainian Association of Employers in the Recreation and Entertainment Sector. Represents the gambling employers in the dialog with the Cabinet of Ministers in Ukraine;
• Nadiya Attard – Director of Business Development at NetEnt – developer and provider of software for the gambling industry;
• Oleh Derlyuk – Managing Partner at Stron Legal Services, a company offering legal services. Tax structuring and consulting expert;
• Tamara Golubchik – Director of the Ukrainian Gaming Business Association. Member of the working group on gambling business legalization at the Verkhovna Rada Committee on Finance, Taxation and Customs Policy.
Discussion will be useful to everyone interested in the prospects of Ukrainian gambling services market, as well as people willing to understand the new rules of managing a gambling business that will become valid after the adoption of the law on legalization.
Ukrainian Gaming Week 2020 will be organized by Smile-Expo international company on 15-16 of April in the International Exhibition Centre, Kyiv. Event will feature advanced solutions for the gambling industry. Conference will present Ukrainian and foreign experts sharing insights about main trends on the market and the future of the industry.
Event program and details: ugw.com.ua