All-in Gaming Ukraine (AGU), the first of its kind will take place on 17 and 18 June 2020.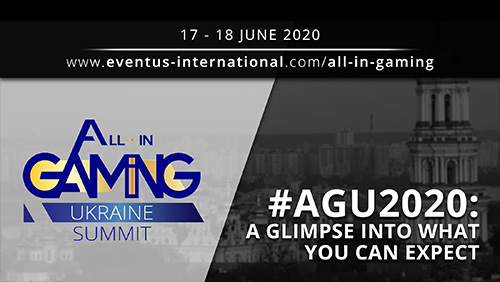 AGU is geared as an esteemed gaming summit and exhibition, with a focus on the current legalisation of gaming in the Ukraine, looking at operators, regulators and other key industry stakeholders. We foresee that AGU will be the first of many successful editions of this gaming event in the Ukraine.
Eventus International continues to keep their finger on the pulse of current developments in the global gaming industry. We are excited to share with you what will be covered at the two-day summit in Ukraine.
By attending AGU 2020 you will:
• Understand the current gaming situation in Ukraine and understanding the massive market potential
• Be positioned to enter a new market while learning about the latest developments and future opportunities from market-entry experts
• Gain useful business contacts and partners
• Profit by leveraging the event to launch or exhibit your product
• Be equipped with a thorough knowledge of the regulatory framework in Ukraine and the surrounding region
Eventus International is pleased to announce Robert Brassai as our strategic advisor at the summit. Robert is the Principal Consultant and Owner at Sense4Gaming.
Many other trending topics will be explored. Do not miss out on the opportunity to be a part of these crucial discussions. Also, take this opportunity to network with key gaming players.
Eventus International is a well-known, summit and exhibition company that connects leaders with leaders and turns opportunity into possibility. We make use of our vast networks and knowledge of the industry to create forward thinking summits that always look at key industry topics that are both relevant and engaging for our audience.
To register and secure your seat at AGU 2020, click here.
Call for speakers now open
This is your opportunity to demonstrate and share your industry expertise at one of Ukraine's most prominent gaming events.
To enquire about speaker opportunities, please send an email to [email protected]
Contact us now to find out how your company can benefit at AGU 2020:
Contact Eventus International's Marketing Director, Lou-Mari Burnett, to grow your business in Ukraine and the surrounding regions with our sponsorship and exhibition packages for AGU 2020.
Lou-Mari Burnett
Marketing Director
Eventus International
Email: [email protected]
Phone: +27829075850