QUARTER4 USES UNIQUE ALGORITHM TO DETERMINE PROBABILITY OF WINS AND LOSSES AND PLAYER OUTCOMES WITH 74 PERCENT ACCURACY IN JUST SECONDS
WATERLOO,ON | NOVEMBER 20, 2019 – Quarter4 today announces the launch of its new sports prediction platform that deploys a unique algorithm to maximize accuracy and user profitability in game predictions and projected fantasy performances. With a 74 percent accuracy rate, this game-changing software provides users with up-to-date and easy-to-read analytics that are likely to impact the outcome of a game or an athlete's performance, enabling users to place more informed bets.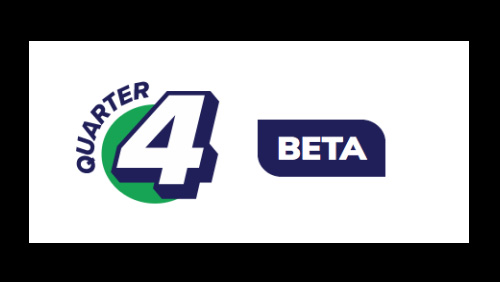 "As the sports and fantasy betting industry evolves, more and more people are entering the marketplace looking for accurate information, but they're confronted with walls of stats that are difficult to interpret and can cost upwards of $1,000 a season," says Kelly Brooks, Quarter4 CEO, President and co-founder. "Quarter4 cuts through the numbers, offering simplified breakdowns of games, player performances and fantasy predictions with an unprecedented success rate in just seconds."
The algorithm goes beyond just the stat lines and considers the intangibles that can influence game outcomes or player performances. This includes team chemistry, year-over-year performance, momentum shifts over the course of a season, notable news stories involving players or coaches and much more.
"Predicting the outcome of games or how a player will perform is dependent on so many factors that cannot be captured by traditional sports analytics. Quarter4's use of AI technology will give users a significant advantage, allowing them to make picks with confidence," says Danijela Covic, Chief Sales Officer and co-founder of Quarter4.
The software as a service platform employs non-bias artificial intelligence technology in its algorithm as the basis for its predictions. Quarter4 has also incorporated Google Assistant, allowing users to find out how teams or athletes are expected to perform through their Google Home devices, smartphones or in their vehicles.
Quarter4 is in the midst of an already successful fundraising campaign to generate capital that will be used for feature enhancements and business expansion. Currently built for users to place bets on NBA games or fantasy picks, Quarter4 has plans to extend its offerings to NCAA basketball in January 2020. By mid-2020, Quarter4 will be fully operational in key major North American sports leagues, including the NFL, NCAA football and the NHL.
"With new legislation being passed in the United States weekly allowing sports betting, there is a new frontier for investors," said Trevor Eastman, co-founder and Chief Operating Officer of Odyssey Sports Group and Quarter4 advisory team member. "Currently, the future is in technology and checkbooks follow the future. As sports betting rapidly consumes America, the future rapidly changes to make room for it. Quarter4 is the future, combining technology with sports betting. The potential upside should leave investors and bettors salivating."
The groundbreaking technology used by Quarter4 will ensure the unrivalled 74 percent success rate will hold steady as the company expands into other professional sports leagues.
Quarter4's business model is as easy to use as the platform itself. At $9.99 per month, users will have access to an extremely accurate algorithm that can significantly increase the user's success rate and financial earnings. The company anticipates 1.5 million subscribers using the platform by 2023.
"Quarter4 has taken the 'expert' out of the sports betting world. There is finally a data driven formula for winning your sports bets and fantasy pools, and it is being provided for nearly no cost to the consumers. No one is perfect, but this AI platform is flirting with just that," said Austin Eastman, Founder and President of Odyssey Sports Group and Quarter4 advisory team member.
Visit Quarter4 today to get access to North America's most accurate and cutting-edge sports prediction tool.
ABOUT QUARTER4:
Quarter4 is an easy-to-use, online predictive sports platform that incorporates proprietary AI and machine learning algorithms, as well as voice technology, to determine the probability of wins/losses and player vs. player outcomes in just minutes. The company empowers fantasy players, bettors and superfans to place more informed bets.
Website
Facebook
Twitter
Instagram
ABOUT ODYSSEY SPORTS GROUP:
Odyssey Sports Group is a full-service basketball agency representing players all around the world. Odyssey co-founders Trevor and Austin have also teamed up to form Eastman Ventures, a strategic investment firm that was part of Quarter4's initial raise.