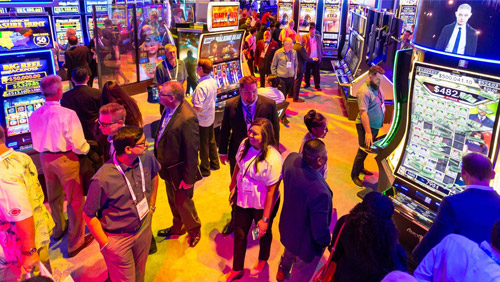 The latest edition of the annual Global Gaming Expo (G2E) has come to a close in Las Vegas and was another overwhelming success. It saw participation from over 27,000 gaming professionals, all coming together at the Sands Expo and Convention Center to shape the industry's future. On top of a talk by former New Jersey Governor Chris Christie on what will drive sports gambling in the U.S., there was plenty of action about what's coming to gaming floors – both retail and virtual – and what's in the cards for revenue generation.
Union Gaming (UG) analysts were on hand at the event with the goal of taking the pulse of the gaming industry. They got together with more than 20 global gaming companies to hear first-hand what they thought of the current environment and future possibilities, with many showing consistent optimism.
According to UG, "Corporate management teams consistently claimed that they are not seeing any slowdown in domestic consumer spending. However, this conflicts with monthly GGR data that broadly shows a declining top line. Most companies claim the decline in monthly GGR is self-inflicted as the industry continues to eliminate unprofitable revenue and underlying demand is actually quite good. This confidence from companies gives us comfort in the near-term, particularly as it relates to 3Q19 earnings for regional casinos."
That comfort translates into updated positions on many U.S.-based gaming operators. UG said that it expects these companies to "broadly meet or beat" third-quarter expectations on EBITDA (earnings before interest, taxes, depreciation and amortization) and gives several a "Buy" status. Among these are Penn National, Boyd Gaming and Eldorado Resorts.
One company that may not perform as previously expected is Twin River Worldwide Holdings. The company behind Rhode Island's only two casinos saw its estimates lowered, but UG added that it is "leaving our target and rating unchanged as valuation is still attractive even with our lower estimates." The changes may not be completely Twin River's fault – it's having to deal with what appears to be backlash after it decided to rake the state's governor, Gina Raimondo, over the coals.
Several newcomers to the slot segment could also see a bright future. UG points out that Incredible Technologies and Gaming Arts, LLC has received a positive response from gaming buyers and that Everi Holdings continues to impress.
UG analysts also walked away feeling good about some low-flying operators in the industry. Century Casinos was bumped from "Hold" to "Buy" as the small-cap company has essentially been overlooked by the industry. Accel Entertainment, which operates video gaming terminals in Illinois, is blazing a path in the state and has "several years of growth runway."