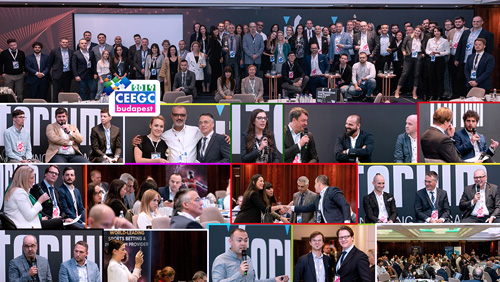 Budapest – 11 October 2019 –
CEEGC gets better every year and possibilities for learning and networking are endless!
The 4th edition of CEEGC Budapest took place over two weeks ago at luxurious Ritz-Carlton Budapest and the organizers, European Gaming Media and Events, would like to thank all speakers, delegates, guests and last but not least the supporters of the event!
The 2019 edition of the conference recorded 14 sponsors and most of them have already shown interest in the 2020 edition. The big thank you goes to the following supporters of CEEGC Budapest:
· Iforium – MAIN STAGE SPONSOR
· SBTech – LANYARDS SPONSOR
· UltraPlay– REGISTRATION SPONSOR
· BDK Advokati – BALKAN REGULATORY SPONSOR
· PLANZER LAW – EUROPEAN REGULATORY SPONSOR
· TAL RON, DRIHEM & CO LAW FIRM – LEGAL AND BANKING SPONSOR
· Digital Choo (DC) – DELEGATES BAG SPONSOR
· BETEGY – TECHNOLOGICAL SPONSOR
· BtoBet – DIGITAL SPONSOR
· Altenar – PEN, PAPER AND PAMPER SPONSOR
· NSoft – GENERAL SPONSOR
· Digitain – GENERAL SPONSOR
· Netshop ISP – GENERAL SPONSOR
· Magellan Robotech (Stanleybet Group) – GENERAL SPONSOR
"We are happy to say that CEEGC Budapest has now truly become the traditional yearly autumn conference and we love seeing the happy faces at the conference. We are also happy about the support we received by the sponsors and I have to tell you that 14 is a pretty high number for a boutique-style conference. This support enables us to further increase the quality of the conference and we will continue to bring this opportunity year by year in Budapest" stated Zoltán Tűndik, Head of Business at European Gaming Media and Events.
You can view the full official image gallery on the following link.
The conference brought together compliance experts, leading gambling industry operators, marketing experts and several service providers from the Central and Eastern European region, the Baltics, the D-A-CH region, but also from several other European regions.
The agenda of the conference included several panel discussions, an exclusive IMGL MasterClass about North America, a unique and informative keynote presentation, a fireside chat and several networking opportunities.
The attending delegates had the unique opportunity to hear the recent updates and enjoy networking sessions with some of the leading names of the industry. You can find the full list of speakers below at the end of this press release!
The audio recordings of the panel discussions are available for European Gaming PREMIUM Members.
During the 4th edition of CEEGC Budapest, attending delegates also had the opportunity to decide the winners in the 20 categories of CEEG Awards 2019 (Central and Eastern European Gaming Awards).
As in earlier years, the winners were announced in the final session of the conference, after the secret vote casted by the attending delegates. You can view the full list of the winners per each category on the following link.
Special thank you goes to the presenters of the awards for their professionalism, Kamila Spalińska (WH Partners – Polish Desk) and Dan Iliovici (ROMBET)
Congratulations to all the winners and the organizers look forward to welcoming you back in 2020!
Make sure to also subscribe to the social media channels of the conference for continuous updates regarding the 2020 event: Facebook, Twitter, LinkedIn, Instagram
The next edition of CEEGC Budapest will be held in September 2020, you can Pre-Register here to get the latest notification about the official date, location and speaking possibilities.
The team is already working hard on the next events and the look forward to seeing you soon in Milan for the second edition European Gaming Congress!
Here are a few of the testimonials that have left by the attending delegates of the 2019 edition of CEEGC Budapest:
"We had an excellent time at the CEEGC networking and participating in the payment discussion panel. Not only was it a great chance to catch up with some of the CEE region's major players, but also to stay on top of such a dynamic region's evolving trends and developments." – Simon Dorsen, Director of Gaming, OKTO
"CEEGC in Budapest 2019 was my first of hopefully many European Gaming Media events. Combining a balanced and interesting range of topics presented by quality speakers and an excellent networking environment, the organisers did a great job in demonstrating that they know what they are doing to make a great conference." – Jessica Maier, LLM, Partner at MELCHERS law firm
"CEEGC 2019 was a very well organised event that included multiple great panels with some of the industry experts discussing the trends across different markets and gaming verticals. Moreover, this event offered excellent networking opportunities with the wide range of representatives from the industry, including operators, providers, suppliers and regulatory experts. I will definitely attend next year because events like this one add a lot of value to the work I do at Trustly and allow me to stay up to date with the industry changes but also create new collaborations and partnerships." – Vasilije Lekovic, Director of Gaming Accounts at Trustly
"Thank you very much for inviting me to speak at CEEGC 2019 in Budapest. I speak at a lot of conferences over the years and this was very well done and one of the best. It was well organized, substantive, great venue and excellent networking." – Bill Pascrell, III, Partner at Princeton Public Affairs Group, Inc.
"CEEGC is an event every serious gaming and betting industry expert from the region has to add to her/his calendar. With agenda full of valuable content and many key professionals from the market gathered in one place it is a conference you cannot miss." – Jakub Myszkorowski (Chief Commercial Officer at STATSCORE)
"For us at Inplaynet, it is important to get the latest information and take the pulse of the whole betting market from other companies. At the conference which European Gaming organizes, we always have the possibility to get a meeting at the meeting. The family atmosphere you create give us the possibility to find and create relationships, while also having the opportunity directly contact, give information and get information for and from the whole market." – Deniz Yildirim, Co-Founder, and Shareholder at Inplaynet
"The event is a great opportunity to get deep insights about the regulations and the markets in the area." – Domenico Mazzola, Commercial Director at Altenar
"I am very glad that I had the opportunity to be a delegate at CEEGC 2019, already looking forward to 2020 :)" – Natalia Černáková, Compliance Officer at SYNOT Games
The lectures and industry insight during the conference were given by:
Dan Iliovici (Vice President at Rombet), Georgi Dimitrov (Legal Counsel / Compliance at EGT Interactive), Jan Řehola (Director at IFGR and Partner at PS Legal), Jaka Repanšek (Media and Gaming Expert), Petrica Soptelea (EEME Senior Sales & Account Manager at Magellan Robotech), Zlatan Omerspahić (Data Protection Officer at NSoft), Luka Popović (Partner at BDK Advokati), Alex Kornilov (CEO at BETEGY), Gábor Helembai (Senior Associate at Bird & Bird Budapest), Ewa Lejman (Head of Polish Desk at WH Partners), Andrei Andronic (General Counsel at Playson), Domenico Mazzola (Commercial Director at Altenar), Dr. Alan Littler (Gaming Lawyer at Kalff Katz & Franssen), Robert Dowling (Chief Commercial Officer at Singular), Michele Magro (Chief Counsel – Policy & International Affairs for the Malta Gaming Authority), Hannah Kennish (Legal and Regulatory Affairs Manager at Playtech), Jessica Maier, LLM (Partner at MELCHERS LAW FIRM), Robert Toth (Key Account Manager at Global Bet), Cédric Schlosser (Board Member of the Swiss eSports Federation), Lyubomira Petrova (Chief Marketing Officer at UltraPlay), Oleg Profatylo (Chief Strategy Officer at Digital Choo), Bill Pascrell, III (Partner at Princeton Public Affairs Group, Inc.), Andrew Cochrane (Chief Development Officer at SBTech), Ilkim Hincer (Partner at McCarthy Tetrault), Jeremy Kleiman (Partner at the New Jersey law firm of Saiber LLC), Vasilije Lekovic (Director of Gaming Accounts at Trustly), Simon Dorsen (Director of Gaming at OKTO), and last but not least Max Krupyshev (CEO at CoinsPaid).
Special gratitude is also extended to the panel moderators for keeping the discussions flowing and educative:
Andrius Gabnys (Attorney At Law – Gabnys Law Firm), Joe Ewens (Managing Editor of GamblingCompliance), Dr. Simon Planzer (Partner at PLANZER LAW), Jaka Repanšek (Media and Gaming Expert), and last but not least Tiago Aprigio (CEO at All-in Global)
For further inquiries about the 2020 edition of CEEGC and CEEG Awards, speaking/attending/sponsoring options, make sure to send an e-mail to [email protected] or subscribe to the weekly newsletter on the following link.
About the Central and Eastern European Gaming Conference
The Central and Eastern European Gaming Conference and Awards (CEEGC & CEEG Awards) has been launched in 2016 with the aim of bringing together gambling industry professionals, executives, and government representatives.
Every year, +125 like-minded delegates have the opportunity to discuss collaboration opportunities, learn about compliance updates and harvest the tech & marketing related information which is presented by industry leaders from the ever-evolving international gambling industry community.
Make sure you take advantage of this unique opportunity of learning and networking with the gambling industry in the CEE and Balkans region via the CEEGC platform which is committed to bringing together industry shareholders and government officials from the region on a yearly base.
Browse the official event website here.
About the organizer, European Gaming Media and Events
European Gaming Media and Events is a leading media and boutique event organizer company in Europe and produces the prominent conferences in the region such as:
● CEEGC (Central and Eastern European Gaming Conference)
● CEEG Awards (Central and Eastern European Gaming Awards)
● Prague Gaming Summit
● Mare Balticum Gaming Summit
● Baltic and Scandinavia Gaming Awards
● EGC (European Gaming Congress)
● VIGE (Vienna International Gaming Expo)
The live events/conference division is in charge of organizing boutique style executive gaming events that focus on bringing inside information from the top gaming experts in the European Union and beyond.
In short, they cover most areas of Europe with international events that serve the local and global industry, optimize networking opportunities and bring the hottest topics into scope.
The event destinations in 2019 will include a further expansion for the company in their quest to enter the Western European region and bring their expertise to produce local gaming events.
For more details about the calendar, agendas and locations, visit the Live Events/Conferences section on europeangaming.eu.