The AskGamblers team is proud to announce they are extending their presence in the iGaming world by entering new markets. With a desire to secure greater exposure in the online casino industry, AskGamblers have recently implemented new languages on their website – Japanese, Portuguese and Spanish – after having successfully implemented Italian and German in 2017. By doing so, the AskGamblers team has once again proven they are willing to push boundaries and are always open for new challenges and and website enhancement.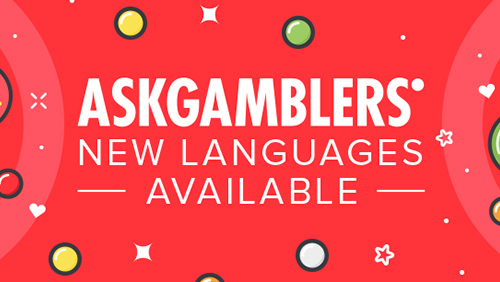 AskGamblers Adds New Languages on Their Website
Following the same spirit of expansion to the German and Italian markets in 2017, AskGamblers decided to broaden their presence in the iGaming universe by implementing several new languages to their website. While constantly aiming to meet their readers' needs and with a desire to secure the greater exposure in the industry, AskGamblers has recently implemented Japanese, Portuguese(BRA) and Spanish as the new languages on their website.
From now on, Japanese, Spanish and Portuguese(BRA) speaking players will be able to take advantage of all the AskGamblers existing features on the website in their respective languages. These functionalities include creating an account, writing player reviews, leaving comments on the forum and so on, in all their native tongues.
As a trusted online casino portal, AskGamblers will continue to provide safe gambling experience to their readers through informative and entertaining content which will now be available in 6 different languages, with English being the primary one.
AskGamblers Product Owner, Denis Ristic, explained: We are very proud of the reputation AskGamblers has gained within the iGaming industry. With a focus on our players' needs, we will continue to work on our expansion and further development to enter new markets in the future. The knowledge and dedication of our team members are what keeps us going forward in our mission to become bigger and better.
More About AskGamblers
AskGamblers is the leading online gaming portal that provides unbiased information about hundreds of online casinos worldwide. Over the past decade, the website has built a reputation of a trusted online casino portal, with a purpose to guide players to a safe gambling experience. Since its very beginning, AskGamblers has been dedicated to providing an informative and entertaining experience to its readers through the latest casino news, promotions, big win stories, blog posts, and so on.
Likewise, anyone who's interested in the iGaming industry can enjoy their coverage of more than 1000 different casino websites, each one of them complete with a full review containing useful, up-to-date information, bonus offers, current complaints history and real players' comments and ratings. In addition, every gaming aficionado can find a wide array of the best online slot reviews that have recently been launched and added to their database. Get the truth. Then play.
For more information please contact: [email protected]