Chris Moneymaker follows in the footsteps of Jason Somerville, Lex Veldhuis, and Patrik Antonius by organising and running a live tournament emblazoned with his name and sigil.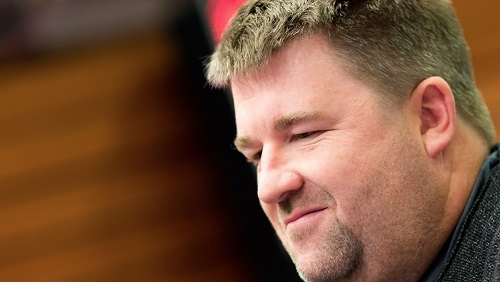 Remember that game you played in school: 'follow the leader.' One wonders if everyone secretly craved to be at the head of the line. Then you had those courageous enough to grab it by the scruff, and the rest were unable to bust beyond the thick ice of low self-esteem.
Chris Moneymaker is playing the game.
He's taken the scruff.
The 2003 World Series of Poker (WSOP) Champion is as popular in poker as an ancient monster tale is to a Scottish Loch. He remains one of the longest surviving members of the PokerStars ambassadorial team, and last year, they took a punt on his popularity by promoting him as the head of the Moneymaker PokerStars Players' No-Limit Hold 'em (PSC) Tour.
The idea for the 11-event schedule, $86 buy-in Main Event, $30,000 Platinum Pass for the winner, tour across America was an unmitigated success, and it seems to have sparked an idea in that noggin of his.
Moneymaker is back for a second shot at spearheading a live tour. No longer as green as a kiwi, and without the support of his lords and masters, The Moneymaker Poker Series will run wild throughout Australia and the USA in July and August.
Here are the dates:
Jul 22-28 – Brisbane Australia (Acacia Ridge)
Jul 30 – Aug 3 – Adelaide Australia (Royal Poker Club)
Aug 14-18 – Edinburgh Texas (The House Club Poker Room & Lounge)
Aug 20-25 – Corpus Christi Texas (Poker Kings Card House)
There are no details yet, only a splash page, but Moneymaker did speak to CardsChat to share his thoughts on a potential $500 buy-in Main Event at each stop with entry fees depending on the market.
PokerStars lack of involvement is nothing more than a calculated guess based on the lack of brand presence on the splash page and throughout social media. If the angels that take care of him are choosing to stay on the other sides of the Pearly Gates on this one, it's understandable.
PokerStars exited the Australian online poker market in 2017 after Aussie lawmakers deemed the act illegal. The US market is the holy grail for any online poker room, and an affiliation with a live tour that's about to enter Texas is unwise. Texan poker rooms squeeze into loopholes with fingers crossed in the hope that regulators armed to the teeth with pieces of paper that can slice off your head don't follow.
As recently as Monday, Moneymaker posted a short video on Twitter promoting the $300 buy-in, $250,000 GTD Texas Poker Championship Series urging players to turn up and support their local card rooms in a region as confused about the legality of live poker as a camel on an ice rink.
Texan card rooms manoeuvre in the greyness of the law by offering card room membership to remove traditional rake, and the ban on alcohol sales is bypassed by telling punters to bring their own.
Player power
Moneymaker is not the only player with a brand powerful enough to stand alone. Twitch has enabled Jason Somerville, and Lex Veldhuis to create tribes sufficient to develop live tournament series' (Run It Up and Lex Live), and Patrik Antonius recently held the Patrik Antonius Poker Challenge (PAPC) in Estonia in a bid to promote his new app First Land of Poker (FLOP).
Comments