Jonas Wexler has won his second gold ring after taking down the $1,700 Main Event at the World Series of Poker Circuit (WSOPC) in Harrah's Cherokee, and the WSOP plan a charity event benefitting the children of the late Gavin Smith.
"I never think I am gonna win."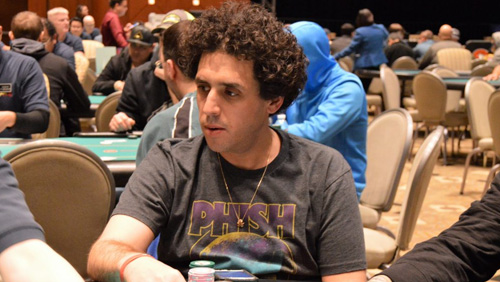 Maybe you should change that strategy.
"I always think something shitty is going to happen."
And that one.
Those were the words of Jonas Wexler after the 40-year-old New Jersey grinder won his second World Series of Poker Circuit (WSOPC) gold ring and the most substantial score of his career after taking down the 1,087-entrant $1,700 buy-inWSOPC Main Event at Harrah's Cherokee
Wexler became the Tyrannosaurus Rex amongst dinosaurs when on Day 2 he won a crucial hand holding pocket kings when all-in pre-flop against Hunter Pappas (AK), T.K. Miles (QQ) and Danny Wilson (66). Wexler accidentally showed his hand to Pappas when he was still figuring things out. Pappas made the call. Wexler would later tell reporters that his mistake came from the shock of seeing his hand, as pocket kings have 'tortured me the most through my career'.
That hand gave Wexler enough chips to waltz into the final table second in chips, and he cruised to the end zone where he squared off against Philip Hernz, and his self deprecating attitude changed.
Wexler on his heads-up confrontation with Hernz:
"I thought I had the edge because I play online a lot. I live in New Jersey, so I grind the New Jersey sites. I've been playing tournaments three or four days a week for the last two years, so I'm sure I have a ton more heads-up experience and final table experience. I feel like it showed heads-up. I was able to manipulate and do what I needed to do to get the win."
Wexler would be proved right, after doubling up with pocket jacks against KT on a ten high flop, and then sealing the win when his pocket sixes beat A2o.
It was Wexler's fifth live tournament win, and the bump in pay sees him move over the $1m mark in gross live tournament earnings. Wexler had banked two six-figure scores before this one, first in 2009 when he finished 5/928 in a $5,000 No-Limit Hold'em Six-Max event at the World Series for $189,555, and then in 2013 when he won a 320-entrant $1,600 No-Limit Hold'em event at the Parx Casino Big Stax II for $101,800 after chopping with Mike Dentale. In January, Wexler finished 24/1415 in the WPT Borgata Winter Poker Open, so he arrived on form.
Wexler secures a seat in the $10k Global Casino Championships, but true to form Wexler was quick to reference his inability to produce the goods in higher buy-in events.
"I am 0 for 10 in the WSOP Main Event."
I just think the lad has eaten too much humble pie.
Final table results
1. Jonas Wexler – $300,536
2. Philip Hernz – $185,628
3. Sepncer Champlin – $137,936
4. Steven Grybas – $103,749
5. Amy Patel – $78,997
6. Andrew Mcilvain – $60,866
7. Dennis Brand – $47,444
8. Noah Shefrin – $37,399
Three other stars who chewed the straw down to nothing in this one were Timothy Miles (19th), Jared Jaffee (22nd) and Allen Kessler (48th).
WSOP host Gavin Smith Charity Event
In other WSOP-related news, the 50th Anniversary extravaganza won't start with the Employee's Event. Instead, it will begin with a $200 buy-in charity event designed to raise funds for the children of the late Gavin Smith.
The former WPT and WSOP Champ passed away in January at the too early age of 50, leaving behind two children whom he had full custody.
Immediately after his passing, Josh Arieh created a GoFundMe account to benefit Smith's children, and the poker community donated more than $40,000.
50% of this rake free event will go to the Gavin Smith Memorial Fund with the other 50% remaining in the prize pool.
The event takes place at the Rio on May 28 at 18:00.​