2/4/2019 – Valletta, Malta – After redefining RNG gaming in late 2018, the revolutionary Max Quest: Wrath of Ra, from Betsoft Gaming, has been shortlisted for the exclusive Spinnovator of the Year award.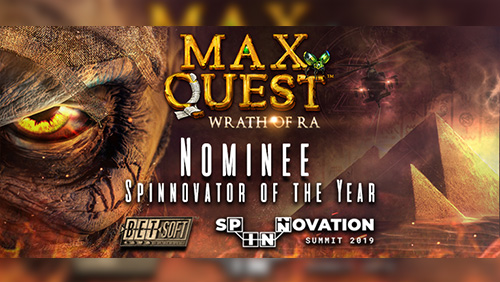 Alongside 11 other games, Max Quest: Wrath of Ra (hereafter "Max Quest") has been recognised as embodying the kind of "unique ideas" and "innovative concepts" that the organisers of the upcoming Spinnovation Summit believe will be essential for slots and skill-based games to appeal to the next generation of players.
Taking place on 30th April at a luxurious venue in Prague, Czech Republic, the Spinnovation Summit is dedicated to highlighting true innovation in iGaming. The Summit will feature high-profile keynote speakers from key market segments, and a showcase of the industry's most innovative games from the last calendar year. The spotlight will be on the Spinnovator of the Year awards – the finalists for which have been selected by an expert panel to reflect the most inventive game mechanics, themes, and ideas the industry had to offer in 2018. An overall winner will be named at the Summit by the judging panel.
A truly game-changing experience, Max Quest reinvents the traditional RNG slot as an interactive, all-action shooting and looting adventure. Set in a sunken tomb beneath the sands of Egypt, the game replaces reels and symbols with maze-like levels, special weapons, and supernatural enemies. Blending the best of social and home console gaming, Max Quest places players in parties of up to six and encourages a unique mix of cooperation and competition; players customise their avatars, earn XP (experience points) as they progress, secure treasure for their personal showcases, embark on quests and even participate in seasonal leaderboards for cash prizes.
"Max Quest is a milestone game – both for Betsoft and for the iGaming industry as a whole, so we are thrilled that it's earning such high-profile recognition" explains Betsoft's Marketing Director, Annamaria Anastasi. "With the first entry in what may become a multi-game series, we were able to build a truly unique iGaming experience, and to create a true crossover game to attract entirely new demographics that have not been converted by traditional slots. The judging panel believe that Max Quest demonstrates real innovation in its presentation, player interface, and game mechanics, so we're honoured to have been recognized for nomination."
About Betsoft Gaming:
Betsoft Gaming develops innovative casino games for desktop and mobile. Its portfolio of more than 190 RNG titles reaches players through partnerships with many of the iGaming industry's leading operators. Under the SLOTS3™ banner, Betsoft is elevating players' expectations; these cinematic slots blend rapid, gratifying gameplay with an audio-visual excellence more typical of movies and videogames.
An early entrant to mobile gaming, Betsoft launched the ToGo™ collection in 2012. More recently, Betsoft revealed the Shift™ environment, which supports truly cross-platform development at the same time as increasing performance, drastically reducing file size and streamlining integration.
Casino Manager, Betsoft's comprehensive back-office platform, rolls reporting, management, marketing, promotion, and administration into a single compelling package.
Betsoft has held a Class 4 license with the Malta Gaming Authority since 2014. The company's games and RNG are both independently certified in more than 15 different regulated markets, including Italy, Germany, and Romania.
Contact [email protected] or visit www.betsoft.com for general information and enquiries.  For press and marketing enquiries, email [email protected].