David Brown is set to join Banach Technology in an advisory role. David brings extensive experience to the organization and will help grow its global operations.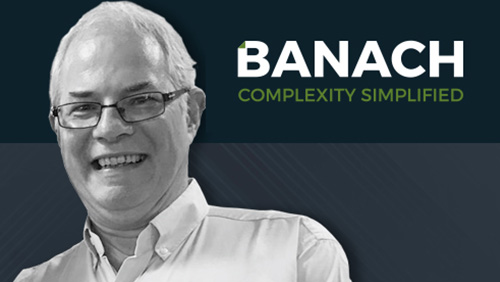 Dublin, Ireland, 15/02/2019 Banach Technology – The sports betting and technology supplier today has appointed former Ladbrokescoral director of trading David Brown in an advisory role.
Brown, with a career spanning over 40 years in betting, is the most experienced Executive Trading Director in the industry. He is the only Executive Trading Director to run trading at Ladbrokescoral, Coral and William Hill.
Banach Technology continues its growth and Brown's track record in the gambling and gaming industry will add even more expertise to Banach's already outstanding product as it continues its growth within the sector.
David Brown said: "I am delighted to join Banach in an advisory role. As a competitor, I became a huge admirer of the impact Rob Reck and his team had on developing the Paddy Power digital proposition over many years. They were innovative, and quick to market through precise technical deployments.
Banach has now assembled an excellent technical team and I look forward to helping them grow their expanding business"
Mark Hughes CEO of Banach said: "We are delighted that David has decided to come on board. We are sure with his many years of experience that he will be a great asset to the organization.
I look forward to working with him on the strategic direction of the company as we expand into new markets around the world and help us drive the business forward."
About Banach Technology
Banach Technology allows Sports Betting Operators to maintain their edge on competition through a product enhancement pipeline and by promoting customer engagement. With extensive B2C and B2B sports betting experience Banach Technology develops differentiated and intelligence-driven product for the sports betting industry, comprising experienced technology & mathematical specialists who have operated in the betting industry for over 14 years.
Comments