12 December 2018, Johannesburg, South Africa – Today, Eventus International announced the dates and venue for the 2nd Annual Scandinavian Gaming Show.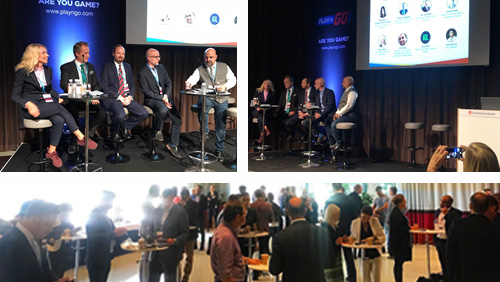 The first annual Scandinavian Gaming Show was a resounding success, as it brought together stakeholders of all disciplines of the gambling sector together for another one of Eventus Internationals premier gambling sector conferences.
Attendees were treated to discussions about the upcoming regulation in Sweden – what it entails, how regulators can cooperate to effectively regulate the region, what responsible gambling and player protection policies will regulators take and how to be successful in a newly regulated market.
Alongside regulatory discussions, industry leading speakers also addressed various topics regarding operations, technology and marketing for both online and land-based sports betting and casinos. With the 2nd Annual Scandinavian Gaming Show taking place 9 months after the implementation of the new sports betting regulations in Sweden, the 2019 edition of the summit seeks to delve deep into the regulatory, operational, technological and marketing challenges and opportunities that will be well established by the time the summit comes around.
In a statement released to the media, Eventus International announced the dates, venue and networking opportunities that the 2nd Annual Scandinavian Gaming Show will present to attendees.
"Eventus International is excited to announce that the second annual Scandinavian Gaming Show will be held at Hilton Stockholm Slussen from 5-6 September 2019. Now well established in the region, next year's Scandinavian Gaming Show seeks to build on the success of last years show by offering more topics to discuss and more opportunities for industry professionals to network." – Yudi Soetjiptadi, Managing Director, Eventus International
Eventus International has already begun seeking speakers, sponsorship and exhibitors for the summit and seeks to have a complete agenda by April next year.
"Our team is invigorated by increasing our productivity, that's why although we have a lot of events planned for next year, we can always deliver powerful agenda's with industry leading speakers and market relevant topics" – Jordan Crossley, Conference Producer, Eventus International
Get a 10% discount on next year's Scandinavian Gaming Show by pre-registering now. You can pre-register online or by contacting Eventus International's Marketing Director; Lou-Mari Burnett.
Lou-Mari Burnett
Marketing Director
Eventus International
[email protected]
+27829075850
About the event:
Now is the time to forge new partnerships in the Swedish and Scandinavian market.
The Swedish parliamentary votes in 2018 and the coming re-regulation, to be enforced from January 2019, will create numerous possibilities for the gaming sector. Sweden and Stockholm in particular will be one of the biggest iGaming hotspots of Europe and the world. Taking these momentous developments into account, Eventus International decided late last year to organise The Scandinavian Gaming Show.
The Scandinavian Gaming Show has a clear objective in mind: to help create a safe, regulated and responsible gaming environment, while opening up the market to the game-changing technological innovations our shows are known for.
New technologies such as Artificial Intelligence, Daily Fantasy Sports, eSports Betting, and VR Casinos are set to change the Gaming landscape forever. As these developments create massive opportunities and pose notable threats, we seek to provide the market with an unbiased programme that explores both sides of the coin. At Eventus International, we aim to equip delegates with the practical skills required to succeed in the age of the 4th Industrial Revolution.
The Scandinavian Gaming Show will be attended by local and international gaming sector operators, software providers, payment gateway providers, fraud and AML experts, Lawyers, Gaming regulators, legislators, government officials and iGaming innovators from around the world, Compliance officers.
Register now to be part of the very first The Scandinavian Gaming Show!
Contact Eventus International's Marketing Director; Lou Mari Burnett to find out how Eventus International can raise your profile in the Scandinavian Market
Lou-Mari Burnett
Marketing Director
Eventus International
Email: [email protected]
Phone: +27829075850
Comments