HELSINKI, 26th November 2018 – Finnplay, the Finland-based open gaming platform provider, has signed an agreement with Swedish Fintech Company Zimpler to integrate its mobile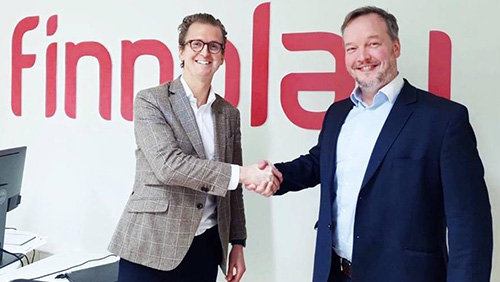 payment technology wallet solutions for its 'Instant Account & KYC' white label brands.
Erkki Nikunen, CMO & Partner of Finnplay, commented: "Today's digital natives demand fast gaming gratification, and frictionless user experience when it comes to playing with gaming brands especially on mobile devices. With the growth and adoption of the Instant Account & KYC -model, which allows players with automated account creation  and instant withdrawals in the
Scandinavian market, we decided to launch white labels utilizing the Zimpler mobile payment solution in anticipation of the Swedish iGaming market opening in January  2019. Zimpler is a modern wallet, enabling us to provide not only bank transfers, but also credit cards and invoicing. We look forward to our partnership with Zimpler in ensuring Finnplay has one of the best rosters of mobile Instant Account & KYC payment solutions available on our platform and in the market."
Johan Friis, Co-Founder & Sales Director of Zimpler, said: "We are happy to launch Zimpler at the Finnplay platform, and by doing so ending the monopoly for the "Instant Account" experience.
Media Photo In addition to this Zimpler will offer more attractive and sustainable commercial rates and allow the operators to minimize the risk by no longer being reliant on one payment solution only.
We strongly believe that our solution will be very appreciated by the end-users as well as the operators. Operators will appreciate receiving the KYC information as well as the verified mobile number before every transaction, thus complying with local regulatory and licensing frameworks. The end-users will experience a modern, mobile and UX friendly flow which includes fewer steps and gives the users the freedom to select their preferred payment method, that is not only bank but also card and swish etc."
About Finnplay
Founded in 2008, Finnplay provides a handcrafted open iGaming platform with the option to own the source code for the iGaming industry. The gaming platform is licensed in Malta, UK, Denmark, Sweden (2019) and Romania.
The platform caters to start-ups, SME's as well as large established companies looking to replace existing legacy gaming systems or improve them, and includes a huge range of casino games (4000+) from major gaming studios as well as numerous global and localized 70+ payment integrations for operators.
For more information please visit: www.finnplay.com
About Zimpler
Zimpler is a Swedish Fintech company, founded in Stockholm 2012. The company's goal has always been to simplify mobile payments and to be a really nice company. Zimpler's main product is a modern, mobile wallet that gives the user control over their spending. We do this with spending limits, nudging and behavioural science methods.
The modern wallet is currently available in Sweden, Finland and Germany, with expansion plans for entering more European markets.
For further information on the company, please visit: www.zimpler.com
For additional information, please contact
Erkki Nikunen, Finnplay
Phone: + 358 40 71 54 486
e-mail: [email protected]
Johan Friis, Co-Founder & Sales Director of Zimpler
Phone: +46 70 490 77 77
e-mail: [email protected]