The Supreme Pool Series 2018 K8.com Classic at Newcastle-under-Lyme was won by Scott Gillespie, the winner of the opening Jason Owen Open in May.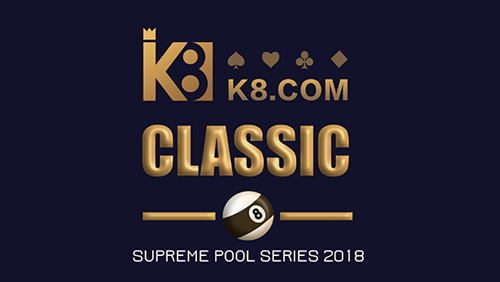 32-year-old Gillespie is from Larkhall and plays regularly in the Motherwell District Pool League. He recently came through a field of 256 players to win the Scottish Pool Association's Mick
McGoldrick Individual Membership competition in Paisley. He defeated ex-snooker professional Mark Boyle 8-6 in the final of that event.
128 players took part in the K8.com Classic with the group stages followed by a final 16 knockout phase. Gillespie had to overcome the in-form Phil Harrison 11-6 in the first round. Harrison had already bagged the Strachan Cup and Supreme Masters this season. The Scot then came through a thriller to defeat 2016 IPA World Champion Gareth Hibbott 11-10. An 11-7 win over Jordan Church was followed by the same score winning margin over Northern Ireland's Declan Brennan.
That earned him a re-match with Brennan in the knockout phase, this time defeating his rival 11-8. In the quarter-finals he eliminated Craig Waddingham before thrashing fellow Scot Mark
Boyle 11-3 in the semi-finals.
His final opponent was Shaun Storry of England who had also come through undefeated. His victims included pre-tournament favourite Mick Hill who was despatched 11-7 in the quarter-finals. He then defeated the reigning World Masters Champion Callum Singleton, an 11-10 winner in his previous match against former two-time WEPF Champion Tom Cousins. Storry was bidding for his second title at the Players Pool and Snooker Lounge having won the Players Amateur Challenge in 2017. He was to be denied by Gillespie who won 11-7 to pocket the winner's cheque of £5,000 and the trophy as K8.com Classic Champion. Storry took home £3,000 while losing semi-finalists Boyle and Singleton each received £2,000.
Gillespie will be among the favourites for the record-breaking Home Leisure Direct Grand Finals with prize money of £51,000 on offer. The series is made up of a variety of formats. The Jason Owen Open and the Strachan Cup were played under World Rules. The Supreme Masters and the K8.com Classic were played under Black Ball rules. The Grand Final will be played according to the all-new Supreme Rules. This is the most valuable tournament in English 8-ball history and takes place between 30th November and 2nd December.
Comments