The first-ever Tri-State poker festival, Coast to Coast, saw players create the largest prize pool in an online tournament since regulation, and Jerry Monroe wins his third gold ring at Harrah's New Orleans.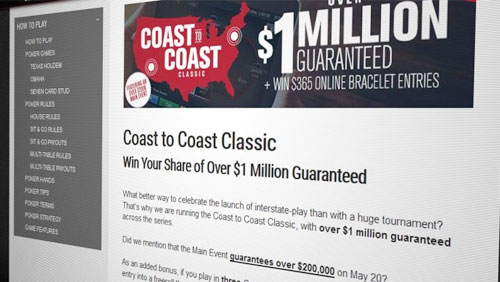 The World Series of Poker (WSOP) is around the corner, freshly shaven, ready to be poked and prodded by hundreds of thousands of people. She will look snazzy for sure. Dressed to the nines, flashing a leg as she steps out of the car, spike crunching deep into the red carpet.
Then again, it seems the WSOP is at every corner.
World Series of Poker Europe (WSOPE)
World Series of Poker Circuit (WSOPC)
World Series of Poker Dot Com (WSOP.com)
There is flesh everywhere, and every inch is designed to lure you into the orgy that is the $10,000 WSOP Main Event. You sense it wont be long before we see the same numbers that helped Jamie Gold win $12m at the height of the poker boom.
Black Friday placed the American online poker market into a jail cell and hid the key. Not being able to play from the comfort of your home was the constraint of all constraints for professionals based in the States. But it was also a beautiful constraint.
Take Jason Koon, for example.
The lad was loving life playing online in the States. Then the government took it away from him. Koon saw the beauty in the constraint. A few days ago, he walked out of the Maestral Casino & Resort in Montenegro with over $4m in profit after playing live cash games and tournaments with players from all over the world.
And it's not just savvy players who saw beauty in the constraint.
Take the WSOP for example.
The government's online poker H-Bomb cleared the decks. The geiger counters say it's safe to go back, and WSOP.com is in a prime position to set down roots that will be difficult to dig up.
This weekend, WSOP.com successfully ended their first Tri-State online festival Coast to Coast, and it gave the American online grinders a little taster of what will happen if everyone can learn the art of patience.
Pierre "P_aire_146" Deissler Wins Coast to Coast Main Event 
The 32-event Coast to Coast festival ended with the $320 buy-in,  $200,001 Guaranteed Main Event, setting a new record for the largest regulated prize pool in the US since Black Friday.
The event attracted 526 entrants (363 unique, and 163 reentries), and after 12 hours of action Pierre "P_aire_146" Deissler won the first prize of $61,411 after beating XcrazylegsX, heads-up.
$61,411 is a wren in a roomful of herons but it's evidence that given time and the right push, things are heading north. All told, the prize pool reached $245,642.
Final Table Results
1. Pierre "P_aire_146" Deissler – $61,411
2. XcrazylegsX – $34,390
3. Frankslatery – $20,880
4. Beastro – $15,967
5. Baileykins – $13,510
6. Filthydiaper- $11,054
7. Deezz_nutzz – $8,352
8. Nomercy03 – $5,650
9. StackMcChip – $2,410
There was also a $1,000 buy-in, $60,000 Guaranteed High Roller. The event attracted 106 entrants (77 entries + 29 reentries), nearly doubling the guarantee, and New Jersey's #1 online grinder, Michael "itWasThatOr0" Gagliano, won the first prize of $28,851, his biggest score since winning $22,249 in a WSOP.com event back in February.
Here are those final table results:
Final Table Results
1. Michael "itWasThatOr0" Gagliano – $28,851
2. Lowrider711 – $16,703
3. Revanmalak – $10,123
4. SlaweelRyam – $8,098
5. Nittybynatur – $6,985
6. Mag8500 – $5,973
And how about this for value?
Every Sunday, WSOP.com host a $320 satellite for a $10,000 WSOP Main Event seat. The latest edition of this series saw 58 entrants (44 unique, 14 reentries) get involved and David "dehhhhh" Coleman won the seat beating josh4jazz, heads-up.
If I lived in the Tri-State area I would be playing in this one every weekend. 
Jerry Monroe Wins the WSOP Main Event in New Orleans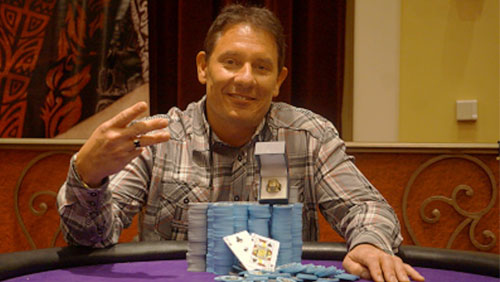 Moving from WSOP.com to WSOPC and Jerry Monroe has won the final gold ring of the season, beating 677 entrants in the $1,675 buy-in, $750,000 Guaranteed Main Event at Harrah's New Orleans.
Monroe banked the $208,184 first prize, and one of two final seats for the WSOP Global Casino Championships, after beating Darren Martin, heads-up. The 41-year-old from Georgia overcame a 3:1 chip deficit to win his third gold ring.
Here are the final table results:
1. Jerry Monroa – $208,184
2. Darren Martin – $128,816
3. Michael Cohen – $94,482
4. Josh Skinner – $70,262
5. Justin Donato – $52,958
6. Hugh Cullen – $40,477
7. Benjamin Mintz – $31,298
8. Scott Horvath – $24,354
9. Donnell Dais – $19,477