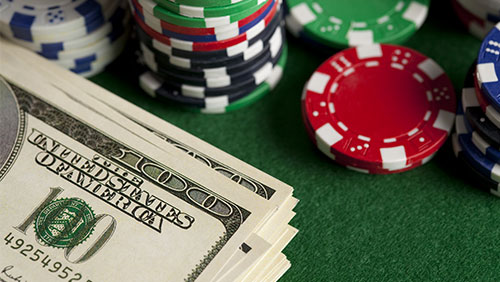 If at first you don't succeed, try, try (and try) again. Mike Coombs, who goes by the moniker DarkKnight17 at the virtual poker tables, finally emerged a Global Poker (GP) tournament winner after being the runner-up at three previous events. The win came at GP's Rattlesnake Open, where he took down the $10,000 NLHE tournament for $3,560 and points on the GP Championships Leaderboard.
The victory almost wasn't. On a crucial hand, Coombs shoved all-in pre-flop with A-10, which was called by his opponent, "GILFhunter2369," holding A-2.  A 2 on the board gave GILFhunter the advantage, and Coombs found himself down in chips 2 to 1. He wasn't ready to give up, however, and fought back in the next several hands to finally take the victory.
Following his win, Coombs took to his blog to reveal that he did it—finally: "Not only did I finally ship a trophy event, but I finally had success in one of their bigger buy ins and the actual win was almost triple my previous high on Global. This also put my online bankroll north of $6k and gets me out of the $3-$3.5k range I seem to get stuck in before falling back down."
Friday Frenzy: 15/30 LHE & Rattlesnake Trophy Hunting! (LIVE BLOG) https://t.co/QfxcVeUmWC pic.twitter.com/7UODl3jMYI

— Mike Coombs (@Dark_Knight_17) May 11, 2018
Coombs, who hails from Tacoma, Washington, is a regular at the GP tables and active in the portal's community forums. To date, he has won over $175,000 in live action and is a versatile player. He favors NLHE, but has also done well in Omaha, mixed-game tournaments and HORSE. His best win to date was a fifth-place finish at the $1,500 HORSE tournament at the WSOP in Las Vegas in 2017.  More recently, he took down a $300 NLHE tournament at the Muckleshoot Spring Classic in Auburn, Washington in March for $20,000.
The Rattlesnake Open will close out on May 20. The player who tops the leaderboard at the end of the tournament series will represent GP at a live poker tournament. GP will pick up the tab for the tournament of the player's choosing, providing $5,000 for travel, accommodations and the tournament buy-in.
Attendance for the 135 events has been greater than GP or the players anticipated. The series boasted a total guarantee of $1.25 million; however, the majority of the tournaments have broken their initial guarantees. Some of the tournaments have received such high turnouts that their amounts were doubled.