Haven't you heard, poker is dead, but the team at Poker.com didn't get the memo because they're trying to sell the domain name for $20m and change.
There is a domain name called Cocksuckers.com.
I'm not a fan. I know about it because I was at a party last night and we were thinking about phrases and then typing them into Google to see if a domain name existed. There is even one called MasterBaitOnline.com and it has nothing to do with sex. Fishy, right? Yes it is.
Apart from the odd love letter, and some half-arsed attempts at becoming the next Bob Dylan, by the time Manchester United was winning the Treble in 1999, I had decided to create a personal blog to share my views upon the world. I called it leedavy.co.uk because a modern day samurai of the same name had already bought the .com version.
I got divorced, wrote about it on my blog, upset my ex-wife, and decided to pull the whole thing down. I got one of those emails asking me to re-register, but I didn't want to fork out the extra few quid to keep the thing going.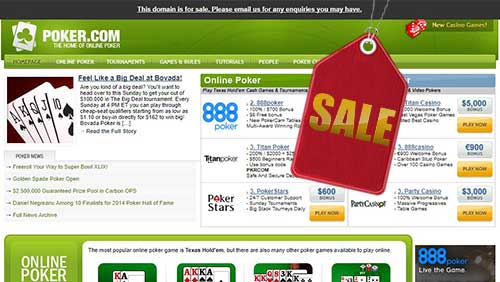 I just Googled it to see if someone has bought it, and lo and behold, a crappy looking affiliate site called Poker-Freerolls.co.uk has acquired it. So, if you enter Leedavy.co.uk into Google you end up on their site, and I think that's smart business when you consider that I am someone who writes about poker.
I wish I was smart like that.
Take the people who bought Poker.com for example. Check it out, it's another dry and barren affiliate site that does nothing. But don't let the mess fool you. According to a variety of gambling media sources, the domain name is up for sale, and the pricetag is $20m. If it sells it will make it the fourth most expensive domain sale in history.
Check it out.
The Most Expensive Domain Name Sales in History
1. Insurance.com – $35.6m (sold in 2010)
2. VacationRentals.com – $35m (2007)
3. PrivateJet.com – $30.1m (2012)
4. Internet.com – $18m (2009)
5. Insure.com – $16m (2009)
6. Hotels.com – $11m
7. Fb.com – $8.5m (2010)
8. Business.com – $7.5m (1999)
9. Beer.com – $7m (2004)
10. ICloud.com $6m (2011)
Brian Sharples, the man who bought VacationRentals.com, for $35m once said that he only purchased the domain name to stop Expedia from having it.
The first-ever domain name registered was a computer manufacturer called Symbolics when they purchased Symbolics.com in March 1985. A domain was free back then. In fact, you didn't have to pay for one until 1995.
I don't know.
It sounds like a smart but scummy way of making a mint. Take Mike Mann, for example, who holds the record for most domains registered in a single sitting with 14,962 domains.
"I want to own the world." Said Mann. 
Well, if you want to own Poker.com it will cost you $20m. You can head to NameJet.com to purchase. If it doesn't sell, then the domain goes up for live auction at an event called NamesCon in Las Vegas, Jan 30.
One of the problems about writing an article on .com websites is it create a lot of links.
Anyone fancy a bet on which one gets the most clicks?
Comments