2017 marked the formation of the "All-in Diversity Project", created, led and championed by Tina Thakor-Rankin and Kelly Kehn, two experienced professionals in the iGaming industry who now run independent consulting firms.  The pair created the All-in Diversity Project as an industry driven initiative to benchmark diversity, equality and inclusion in the global gambling sector with a tagline of "we believe that we can't fix what we can't measure".
Thakor-Rankin firmly states the main drivers behind the 2017 launch of their project include revenue, regulation, reputation and recruitment.
"We are not about telling business what to do", Thakor-Rankin explained.
"We are about assessing the current state of the sector and providing a central source of data, information, resources and support for those businesses who want to ensure that they have a workplace for the 21st century which attracts and retains the employees and customers of the future", she said.
"I think as a western society, we are at a tipping point. You can see it everywhere. People have a voice and they are using it – sometimes for good, sometimes not. So much of what we learn and believe these days comes from opinions from the loudest voices", Kehn added.
As a female who has been working in the gambling industry since 2005, I can confirm the male-dominated nature of the industry has not budged an inch in 12 years, yet we are always talking about the skewed ratio of women to men at industry gatherings and events.
"I think Tina and I (like so many others) were sick of hearing, 'There are no women in gaming' and decided the industry needed a benchmark once and for all. We decided the biggest way for us to affect real change was to create tools for the industry so that any organisation who wanted to progress, could do so in a calculated and measurable way", said Kehn.
"Finally, we agreed that this should not be an 'Us vs. Them' issue. This is about all of us working together to push the industry forward. As Tina said, we have a reputational, regulatory and recruitment issue to solve. We aren't going to get where we need to be if we don't work together on this one", she added.
The gambling industry at present- especially the land-based side- is starting to show signs of stagnation, especially in appealing to younger audiences.  A need for change is imminent and ensuring an organization is equipped with a diverse workforce can help with these challenges.
"We are on entering the 4th Industrial Revolution – and this is going to change everything. The way people work, live and engage with each other and the world at large. With the exception of a few, for the greater part most of the business in this sector are still doing what they were doing 10, 20, 30 years ago", Thakor-Rankin pointed out.
"The workers and players of tomorrow will want an environment which mirrors their world in the way it looks, feels and behaves. These people have grown up in a fully inclusive world where diversity, equality and accepting and celebrating 'different' is their reality…if we can't attract the workers of the future, how on earth will we attract the players of the future?", she said.
"This is about changing the mindset and opening our businesses up to the most opportunities for the best talent out there – regardless of that person's gender, race or sexual preference. This isn't something we as an industry have historically focused on but as the race for talent heats up, we are going to have to put more emphasis on this", Kehn added.
While we all know simply adding more women to an organization's workforce does not mean revenues will magically increase, there are studies revealing multiple benefits to businesses who embrace diversity and weave it into their overarching strategy.
"Having diverse perspectives within our businesses helps improve how we market to our customers and extend our reach to new demographics. It can lead to the creation of new products that appeal to new audience", Kehn shared.
"It's been proven that having a diverse board also leads to better corporate governance. Overall, having a diverse workforce means having diverse experience and perspective. This eliminates 'group think' and overall better ideas", she added.
We can talk about change all we want, but in order to enjoy tangible results, we need to invoke tangible change.  One way to do this is by inviting more female role models to speak at industry events, a vision of Kehn's.  Role models and champions of diversity don't have to be female though, as pointed out by Thakor-Rankin.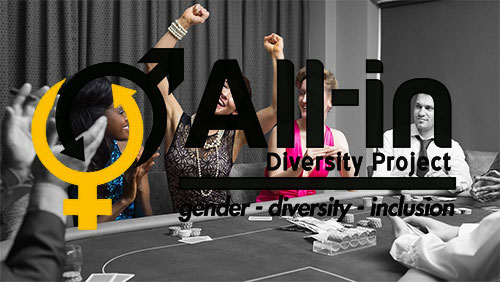 "A role model should inspire. This could be a woman who has 'made it' because they have achieved that which you aspire to. But equally it could be someone who is admired for the way in which they think, behave, act or conduct themselves. It could be a male manager who actively promotes inclusion, or it could be a woman who just gets on with the job and does it well", Thakor-Rankin said.
The iGaming industry will be witnessing tangible change at the upcoming SiGMA conference in the form of the All-in Diversity Project's "HR Conference" track.
"We've curated three hours of various discussions bringing the topic of diversity to the forefront. We'll be talking about how diversity influences how we market to the customers of the future, why it's so important to Malta as a jurisdiction and how to make Diversity part of your corporate strategy", shared Kehn.
"I'm very proud that a topic that was once misinterpreted and a bit taboo is now becoming front and centre and we are taking steps toward real change. The guys at SiGMA deserve a big high five for making this a priority", she added.
To all the gambling professionals who would like to see more tangible change towards diversity within our industry, Thakor-Rankin has some practical suggestions to consider.
"Engage with us and join in the conversation", she encouraged.
"Operators – sign up to participate in the All-Index where we hope to measure what the global betting and gambling sector looks like in respect of diversity. Individuals – sign up as a role model or mentor or just join a community whose aim is to support, build a network of like-minded people, build relationships with other similar sectors, develop a talent pool of individuals for those businesses who are interested in changing, and in shoring up their businesses for the challenges of the future", she said.