'Casual real-money games' aggregator announces another new games portfolio partnership
Gibraltar, 24th August 2017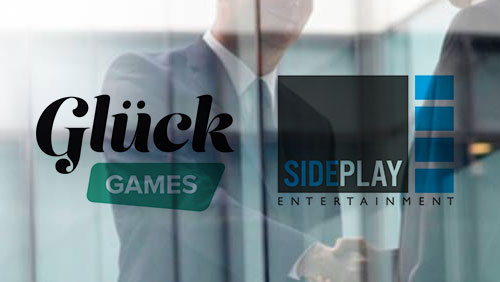 Glück Games, the Gibraltar and Berlin-based 'casual-real money games' developer, aggregator and technology provider, has announced a new partnership with Jersey-based iGaming studio, SidePlay Entertainment.
SidePlay Entertainment has a catalogue of 170+ games created over 14 years, which have received over 60million plays. This new partnership will provide SidePlay with distribution to Glück Games's rapidly-growing list of operator partners. The first games that this partnership will lead yield are Sushi Master and Clusters.
Sushi Master is an instant win game where the player reveals 6 of 9 steaming sushi baskets. The object of the game is to match yummy sushi dishes in the game matrix. With each match the grid is gradually cleared and if the player clears an entire row or column of sushi dishes they win the corresponding cash multiplier. There's a sizzling hot wasabi bonus accumulator too! With a top prize of €250,000 (for a €10 stake), Sushi Master is sure to be a tasty option! Sushi Master is offered to operators with two RTP profiles (60% and 92%).
Clusters is a colourful and highly engaging space-themed instant win game that is sure to be a hit with players. The goal is to create clusters of colours and fill the horizontal win multiplier bars. Collecting hidden stars can also trigger a separate 25x win multiple, firing the rocket-ship into space! There's also a bonus mini game where you can add to your tally of colours winning up to €250,000 (with a €5 stake). Clusters is offered to operators with two RTP profiles (63% and 93%).
Robert Lenzhofer, CEO of Glück Games, said:
"We are very excited to have SidePlay Entertainment join as one of our 3rd party studio partners. Their games are recognised for being tremendously engaging, and most definitely add breadth to our portfolio for operators. SidePlay have over a decade of experience in this sector and have produced games for the state lottery provider in the UK. We look forward to seeing their games live on our platform."
Steve Hickson of SidePlay Entertainment, said:
"Our experience tells us that a high top prize will hook a player, but it's high quality, engaging content that will see them returning time and time again. We're very excited by the additional distribution opportunities that working with Glück Games offers, and look forward to entertaining a large, new audience of players."
ABOUT Glück Games
Glück Games makes casual, real-money games and technology products. We are based in Gibraltar and Berlin and pride ourselves on applying the highest quality design and engineering principles to deliver unparalleled games and back-end products to the online lottery and casino markets. For more information visit www.gluckgames.com or email us at contact@gluckgames.com.
ABOUT Sideplay Entertainment
Sideplay Entertainment Limited is a game studio specialising in instant win game content for the online lottery and gaming market. Our games have been setting the standard for instant content for many years because of their extremely high quality and levels of player engagement. Sideplay is licensed in Jersey by the Jersey Gambling Commission. More information can be found at www.sideplay.com Contact: steve@sideplay.com
Comments