Fresh8 Gaming, the dynamic ad specialists, have inked a deal with BetStars, the sports betting arm of PokerStars, to help promote targeted sports betting adverts for use within BetStars marketing campaigns.
The Fresh8 tech allows BetStars to deliver personalised adverts to individual users and segments. The ads are auto-built on delivery ensuring that the BetStars message is always highly relevant to both the publisher content and the BetStars brand. The initial roll out focuses on the UK, but will be rolled out across Europe.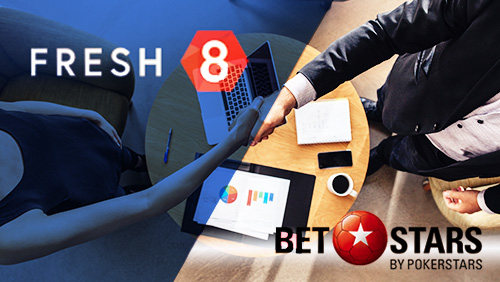 Zeno Ossko, Managing Director of BetStars, said, "We were looking for a partner that could deliver effective campaign promotions. The real-time automated application of the Fresh8 platform means we can ensure a highly relevant marketing campaign wherever we advertise. We're looking forward to see what Fresh8 can delivers to us."
Andrew Sharland MD at Fresh8 Gaming reiterated, "Exciting brands such as BetStars need technology that reduces the manual process of asset creation and optimisation. We are proud to have been selected through an open and competitive tender. Programmatic advertising and data led technologies will transform the way sports betting operators buy media. However, even with all these technological advances, advertisers struggle to use their data and insight to deliver truly personalised creative delivery of experiences due to sports betting's challenging product set. The Fresh8 technology platform will ensure that all BetStars messaging is highly relevant in real time to the consumer, the content, and the real time sports betting product."
About Fresh8 Gaming
Fresh8 Gaming is the sports betting ad-tech platform. Fresh8 works with some of the world's leading gambling operators such as SkyBet, Coral and BetVictor to deliver contextual, personalised, and fully automated multi-format display campaigns.  By making messaging user specific and real time Fresh8 increases clients' customer acquisition and improves the retention of existing users.
Fresh8 Gaming also works with premium publishers such as Sky Sports and The Telegraph Group to automate the creation of betting content. This optimises the conversion funnel of their gambling partners to deliver higher CPMs.
Fresh8 Gaming was founded in 2014 and has offices in London and Bristol, UK.
About BetStars
BetStars is the online sports betting brand from the Rational Group, which operates the world's largest online poker room, PokerStars. The sports betting service features a wide range of popular and specialist betting options, fantastic promotions and exclusive new products.
BetStars offers players a seamless experience between sports betting, casino and poker, with a single wallet between all three services. BetStars is available online and on mobile and tablet, with dedicated iOS and Android apps for a quick and simple betting experience.
BetStars is ultimately owned by Amaya Inc. (Nasdaq: AYA; TSX: AYA).