July 2017: BetConstruct joins the iGaming Super Show in Amsterdam on July 11-14 to showcase its latest innovation, Spring Console (BME), along with the entire product portfolio.
All the solutions, for online and land-based operations, and services will be showcased at Stand Q1 with demo counters that will allow the visitors to try out the tools and games by BetConstruct at first hand.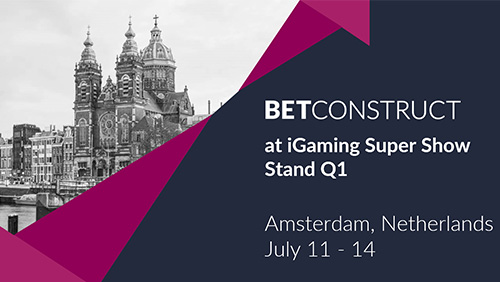 "The iGaming Super Show is one of the most significant events of the year for BetConstruct. Amsterdam is a fantastic city to host this unique event that combines B2B suppliers' and operators' affiliate programs together under one roof. It allows us to learn of industry developments that we do not often have the first-hand opportunity to see. We are very much looking forward to 2017 IGSS and expect it to be as grand and busy as ever," tells Sergey Harutyunyan, BetConstruct's Chief Operating Officer, to the show's organizers.
Ahead of the iGaming Super Show 2017, the technology provider will hold the big reveal of its Spring Console (BME) that is designed to empower B2C providers, large and small.
"The console, a real game changer in our industry, is another step to more flexibility for both operators and providers," says BetConstruct Executive Chairman Vigen Badalyan.
Visitors of Stand Q1 will have an opportunity to get first-hand experience with using BetConstruct's tools and technologies during the show as well as learn more about Spring Console (BME).
BetConstruct's main business development direction this year, conceptualized as 'The Door', is to provide betting companies all the services they need to grow their businesses. From Sportsbook with 30.000 live matches per month, RNG and Live Casino to Social Gaming and Data Feed services, BetConstruct offer customised and localised solutions to operators who choose to join their growing network.
For companies wishing to enter the online betting and gaming market quickly and at a low initial price point, BetConstruct offer a comprehensive white label offering. This offer not only includes access to Sportsbook and other product verticals, but also the option to be licensed in a number of jurisdictions. Additionally, all partners are provided access to a comprehensive services offering provided free to all partner operators. These award-winning services include account management, player support for the players of our partners, book making and risk management and are available on a 24/7 basis.