In Episode #3 of Poker Routines, Lee Davy speaks to the online MTT Wizard, Bryan Paris, to break down the habits and routines of a husband, father, and professional poker player.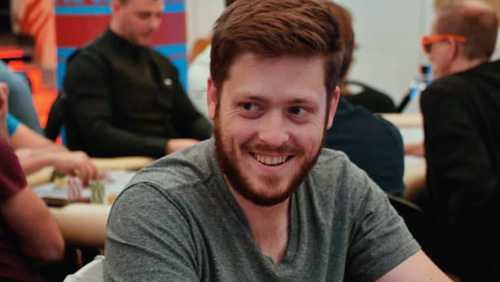 The first time I met Bryan Paris was a tad awkward, to say the least.
I was working at the World Series of Poker (WSOP) as a Live Reporter, and let my inferiority complex get the better of me when I misheard Bryan talking to someone at the table.
I acted like a dick.
Bryan acted like the perfect gentlemen.
A high admiration for him emerged from that exchange, and, well, his results take care the rest with over $10.2m in online MTT winnings (only Chris Moorman $14m and Nicolas Fierro $10.6m have won more), and over $700,000 playing live.
Let's see how he does it.
What is your morning routine?

"I usually sleep in because my Twitch schedule involves me staying up late. Sometimes I'll get up early with my wife and son and do family stuff. During the afternoon we're usually taking him out somewhere, to museums or parks or just to do errands."

What time of the day do you find it easier to play poker and why?
"I am very used to playing at night since moving to Europe. I usually start around 8 pm and play until I'm out of everything, which can be anywhere from 1 am to 7 am."

Do you have defined goals for how many hands/sessions you play in a week: both live and online?
"I try to do four Twitch streams online and one live cash session each week."

Where do you play online, what types of games, and stakes?
"I play on all the sites, mostly mid stakes MTT's in the $25-215 range."
Same question when playing live?

"For a few years, I was travelling to every EPT stop to play MTT's there. Since having our son we've been a bit more settled, and now I mostly play live at the Holland Casino Amsterdam, which is ten minutes away from my house. They have a big MTT series twice a year, and I'm playing live cash about once a week. I plan on going to Vegas for just the Main Event this year, and I'm still trying to go to one or two PSC stops in Europe each year on top of that."

What tools do you use when playing poker?
"HEM2 is my HUD. I also use TableTamer to help me manage my table count."
Do you listen to music? If not why not? If so what benefit do you get? What music do you listen to?

"I have a Spotify playlist for the Twitch stream. You can head over to the chat at www.twitch.tv/bparispoker and type !playlist to check it out."
How do you use your HUD?

"I have three lines of stats, two are based on preflop and one on flop stats. I find that turn/river stats are a bit too sporadic to rely on in MTT's. I try to look for spots where people are unbalanced, i.e. opening too much from late position, c-betting too much, etc."
What system do you use for taking notes on your opponents?

"I just take notes on the client whenever I see anything super unbalanced. I try to take as many as I can."
Do you have a specific routine that you go through before you begin an online poker session?
"Not really, I tend to just jump right in after having dinner with the family and helping to get the baby to sleep. I'll usually play for 30-60 minutes before starting up Twitch, so I have some interesting stacks."

Do you have a specific warm down routine after you have finished a session?
"I spend about 15-30 minutes doing spreadsheets and answering questions in chat. Then I go to bed and listen to a podcast to get to sleep." 
What do you do on the hour every hour when playing online?
"Walk around, do some simple exercises, go visit the baby upstairs if he's still awake."
What do you do during the break of a live event?
"I try to walk around as much as possible, maybe get a drink or a light snack."
What do you eat and drink when you play?
"I was snacking quite a bit when I first started Twitch, but since gaining some weight, I try to not eat anything while on the grind. I drink a ton of water, and some coffee earlier in the session."

Do you have a space where you play online poker, what does it look like? What is the set up like? What does it say on your Post-It Notes?
"You can check out my setup on Instagram at www.instagram.com/bparispoker"

When you first sit down to play poker how do you begin?
"I open up all my various pieces of software – OBS, twitchalerts, Spotify, HEM2, and up to seven different poker clients. Then I just start registering for stuff. I try to fill up the screen pretty quickly, jumping into 8+ tables right away and going up from there."

What is your process of review?
"I'll go through my hand histories from deep runs and look through each spot in HRC or PIOsolver. Other times I'll filter for certain spots like being in the big blind vs. a raise or opening on the button and try to work through my post flop strategies."

How do you improve?
"Mostly review, I don't think playing helps you improve all that much. Seeing the same spot enough times can help make it automatic, but the true improvements will come from the studying."

How much of your time is spent playing versus learning?
"Probably 75/25."
How do you know when to stop a session?
"When I've busted the last tournament, not usually much choice in the matter for MTT's. Sometimes I stop registering early if I feel tired, but I'm only on four days, a week these days so that doesn't happen often."

Are you consciously trying to emulate the style of a particular player? Do you have people you look to as models for your game?
"Not really, there are players I look up to, but I'm not trying to emulate anyone's style."

Is poker easy? Does it come naturally to you?
"I made my Stars account in 2003. It's safe to say it was very easy back then, and I picked it up pretty naturally. However, in the early days, my learning process was very anecdotal. It took me a few years to develop the sound theoretical framework that has helped me evolve as a player. I still enjoy it fourteen years later, so I'd say it definitely comes naturally to me."

When did your aspirations to become a poker player begin?
"I used to play Magic a lot in high school when I found out there was a card game that I could make good money at I automatically gravitated towards it. Once I graduated, I went straight into the professional lifestyle and never really looked back."

What is your favourite moment in poker?
"Winning the Sunday Brawl heads up against shaundeeb in 2009. It was my first big major win for over $80k; my previous best score was around $30k. Shaun also vocally didn't respect my game – to be fair, I was pretty bad back then – so beating him heads up for a big chunk was extra sweet."

What books have helped improve your game?

"Mathematics of Poker is the one I recommend to people. It teaches you how to think about poker in game theory terms. There's not really any specific suggestions that are useful, but it helps establish the framework for analyzing any spot."
Do your surroundings affect your work, how?
"Being in a nice place for playing online definitely helps. I love our current apartment, so we're well set up on this front for the moment."
You are a new Dad, what's poker been like since caring for a child?
"It's made me a bit more focused on the business side of things. I've cut back to 4 days a week from my old 5-6. And I start the grind a bit later as it's easier when he's already asleep. Overall, it's been a pretty smooth transition."

Was there ever a time when you didn't want to play poker? How did you get out of the funk?
"I never really considered getting out of poker. I did have a fairly prolonged downswing during 2014-15 where I wasn't studying enough or analyzing my game selection properly. I had to establish some new connections and get some coaching to get out of it. I haven't really lost my love for the game at any point."
What WSOP routines do you have?
"When I'd stay at Palms Place, I'd go to the gym every morning before heading over to Rio for the noon event. After busting I'd usually take a break before hopping into some satellites, either sit and go's or mega's. My routine over there is very work-oriented, I don't party or anything while I'm in Vegas."

Comments