Betsoft Gaming, the originator and leading supplier of true 3D cinematic iGaming, have announced that they have signed a partnership deal with promising newcomer Coliseumbet.com. Coliseumbet.com is now entering the European market, and, under the terms of the partnership with Betsoft, will be providing Betsoft's Slots3™ collection of video slots to their players.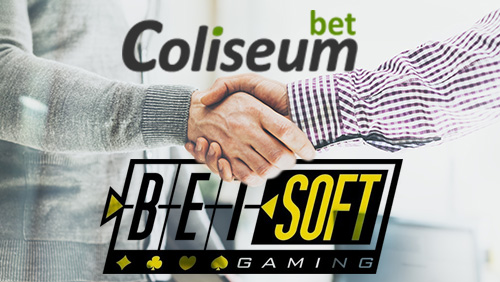 "Coliseumbet.com is a fresh face in our industry," said Stephen Jackman of Betsoft. "Already, they are generating a lot of new player activity and interest. We feel that our games package will be an essential tool for them as they build their business and join the hallowed ranks of well-known operators in the market. We are very excited to be stepping out with Coliseumbet.com at this crucial time in their development."
"At Coliseumbet.com, we want to provide a spectacular iGaming experience that will draw in players of all demographics," said Denis Lesnikov of Coliseumbet.com. "By choosing Betsoft's catalogue of 3D video slots to offer, we think that we are well prepared for our rush of incoming players. The quality of these games is second to none, the themes are varied and well-developed and the gameplay is really engaging."
About Betsoft Gaming:
Betsoft Gaming, broadly known as the innovator and leader of true 3D cinematic gaming, is a Tier One developer and provider of complete system online gaming software. With a game library of over 190 games including the iconic Slots3™ series, Betsoft Gaming has met and exceeded the quality found in console video games and animated feature films. Starting in 2012, Betsoft initiated a concentrated push into the mobile gaming sector, with many of their popular Slots3™ games becoming available as the ToGo™ collection. Betsoft Gaming's extensive portfolio of clients includes some of the top gaming operations in the industry.
For marketing or press queries, please contact press@betsoft.com or visit www.betsoft.com.
Comments