Arsenal put in their best shift of the season to bamboozle Chelsea in one of the greatest FA Cup Final matches in recent memory.
Arsenal prevented Chelsea from repeating their double triumph of 2010 with an emphatic victory under the magnificent arch of Wembley on Saturday afternoon.
Geographically, the two sides are only 10 miles apart, but at times Arsenal's football was from another planet as they tore the Premier League champions to shreds.
Chelsea, who played like they were suffering from pneumonia, were caught cold by a lightning start courtesy of a controversial three-minute opener from the outstanding Alexis Sanchez.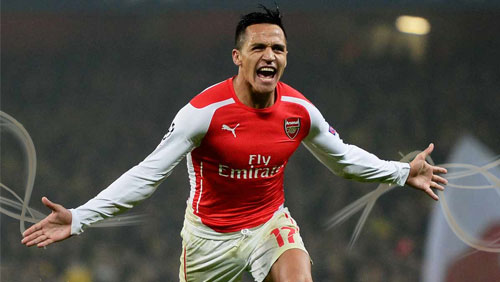 With Sanchez positioned on the edge of the box, Aaron Ramsey squared the ball before making a deep-lying run into the area. Sanchez tried to find him, but the ball cannoned off a Chelsea defender, struck the Chilean on the arm and then landed at the feet of Ramsey, who was standing in an offside position. The Welshman had the wherewithal to leave the ball, and Sanchez burst through the pack to put it in the back of the net.
But the flag was up.
The goal wouldn't stand.
Would it?
Referee, Anthony Taylor, who was superb all afternoon, organised a board meeting with his linesman after which he pointed to the halfway line and Arsenal were ahead. It was the 45th goal that Sanchez had been directly involved with in his previous 51 games for the club, a staggering statistic.
At times, in the first half, Arsenal was so good they made Chelsea look like 11-shirts hanging on a washing line during a brisk breeze. They were all over the place as Arsenal attacked at will.
Gary Cahill twice cleared off the line, once from Mesut Ozil, and another time from Danny Welbeck, either side of a superb Welbeck header that rebounded off the foot of the post and somehow evaded Ramsey as the dragon came charging into the six-yard box.
Two More Goals, a Sending Off, and a Few Records
Chelsea didn't have a chance of note until the second 45-minutes. A fine move down the left brought Victor Moses into play, but his shot was handled appropriately by Petr Cech.
Moses has had an outstanding season under Antonio Conte after being treated like a leper by the club in previous seasons, but he was about to go down in history as one of five men since 1872 to be sent off in an FA Cup Final.
Anthony Taylor had already flashed a yellow card into the face of Moses for a cynical tackle on Welbeck when his criminal instincts kicked in and over he went in the penalty box.
It was a shocking and shameful dive. And it goes to show the mentality of professional footballers that he was willing to hit the deck, not only in front of 89,472 fans but the half a billion people who watch the greatest domestic cup competition the world has ever seen.
Taylor bravely brandished a second yellow, and a red, and Moses joined the likes of Kevin Moran (1985), Jose Antonio Reyes (2005), Pablo Zabaleta (2013), and Chris Smalling (2016) in the Hall of Shame.
Facing 10-men and in such dominant form, you expected Arsenal to blow Chelsea away. But a sending off has a strange effect on proceedings, and this game was no different. Chelsea went at Arsenal like a wounded animal and was level in the 76th minute after Diego Costa chested down a Willian cross before smashing the ball into the net. It was Costa's 22nd goal of the season, and perhaps his last if the Chinese rumours are true.
Game on.
Extra time and penalties beckoned.
But Arsenal had other ideas.
Arsene Wenger sent Olivier Giroud on to replace Danny Welbeck, and the Gunners went straight up the other end of the pitch, Giroud chipped the ball into the box, and there was Aaron Ramsey right on cue to score the winning goal just like he did in 2014 against Hull.
Costa had a chance to level after Daniel Ospina saved his chest and half-volley, but Hector Bellerin could have scored with a rampaging run and shot that went past the far post, and Mesut Ozil hit the post after a beautiful piece of football in the dying embers of the game.
The Final Whistle
So what now for Arsenal?
Arsene Wenger was keen to remind reporters that his side had just won the FA Cup as they prodded and poked him for information on his future. The Frenchman was graceful enough to explain that there would be a board meeting on Tuesday and the public would be made aware on either Wednesday or Thursday.
Despite winning the FA Cup for a record 13 times, and a personal record of seven titles for Wenger, I can't see him staying. The club failed to qualify for the Champions League for the first time in two decades, but more than that, Wenger has had to endure some horrific criticism from all quarters of the football world, but most damagingly from the fans who pay to watch his side week in and week out.
As Sanchez enters the final year of his contract you sense a tremendous upheaval at The Emirates, but at least they will be doing it as the reigning FA Cup holders.
With only four pieces of silverware within Wenger's grasp, there should be praise for taking at least one of them home.
And as for Chelsea, they were unusually under par, but will still be a big, big side both domestically and in Europe next season. I expect Conte invest heavily in the summer, and they will be a tough team to beat once again.
And that draws my meanderings to a close for another season. God knows what I am going to do on a Saturday night without Match of the Day.
I might even have to start sleeping with the wife.
It's a funny old game.
The wife business that is.